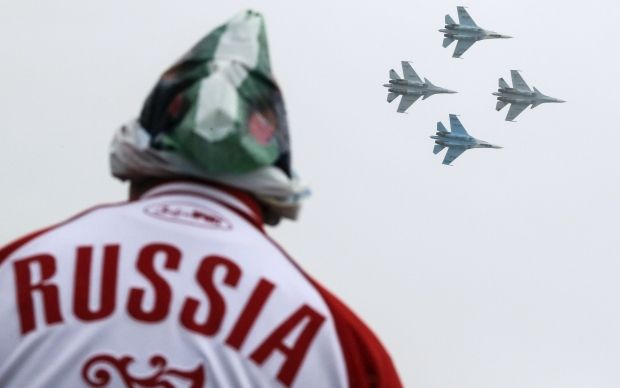 REUTERS
"The troops and forces taking part in the drills were deployed at a distance of 3,000 km in 18 ranges; the military group in Crimea was enhanced," said Shoigu.
The Minister noted that the final stage of the snap drills began on Thursday, with 29 training exercises being carried out at different levels. The Opuk training range is hosting the main exercises.
Read alsoMost discussed topic in Crimea: occupiers send reservists for retraining – mediaThe Black Sea Fleet and airborne troops are practicing in coast defense, the issues of refuting amphibious assault, according to the minister. Air defense units and fighter aircraft located in Crimea are engaged in countering massive airstrikes of a conditional adversary, Shoigu said.
Chief of the General Staff of the Russian Federation Valery Gerasimov said that the drills suggested "full" combat readiness protocol.
Read alsoRussia's latest military drills coincide with eastern Ukraine truce violations8,500 troops, 900 pieces of military equipment, 50 warships and other vessels, and up to 200 aircraft and helicopters are involved in exercises, according to Gerasimov.
UNIAN memo. In March 2014, after the deployment of troops, Russia annexed the Ukrainian Crimea and went on to destabilize the situation in eastern Ukrainian Donbas.
Read alsoNATO ministers approve new force for Eastern EuropeInternational organizations have recognized the occupation and annexation of Crimea illegal and condemned Russia's actions. The Western powers have introduced a series of economic sanctions against Russia.