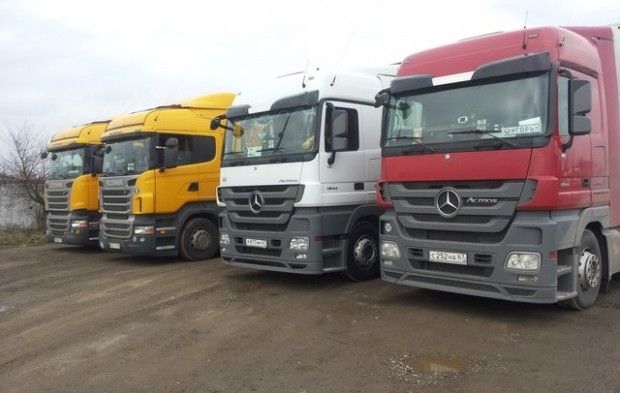 The activists have set up a roadblock at the Kyiv-Moscow highway to block Russian trucks / Photo from svoboda.org.ua
The activists have set up a roadblock at the highway. They plan to arrange the round-the-clock work of the roadblock to block the movement of Russian trucks via Ukraine.
"This blockade is a forced step, because the Ukrainian government headed by Arseniy Yatsenyuk continues to do business with the aggressor country. What is more, the recent decision taken by the government under which the police and the National Guard should escort Russian trucks in Ukrainian territory is the direct fact signaling that Ukraine's interests have been betrayed," the press service said.
UNIAN reported earlier that Ukrainian public activists on February 11 started blocking the movement of Russian trucks leaving Ukraine and heading towards international borders. The rally spread to 10 Ukrainian regions. In response, the Russian government banned Ukrainian truck traffic in Russia on February 14, after which the Ukrainian government temporarily as of February 15 invalidated transit permits issued to trucks with Russian number plates.
Later, the sides started negotiations and on February 16 they agreed to unblock truck traffic both in Russia and Ukraine for the period from February 16 to February 25.
Then at its February 24 meeting, Ukraine's Cabinet of Ministers supported the proposal of the Ukrainian Infrastructure Ministry and green-lighted transit traffic of Russian trucks via Ukrainian territory as of February 25. The Interior Ministry and the National Guard were instructed to ensure safety of transit trucks.
On February 26, the activists who had been blocking the Russian trucks in Zakarpattia announced the end of their protest.
However, on the same day, the Svoboda Party announced it had restarted blocking Russian freight vehicles in Ukraine.
On February 27, Svoboda's Chernivtsi regional organization announced that its activists had blocked trucks with Russian number plates at two checkpoints at the border – Porubne (the Ukrainian-Romanian border) and Mamalyha (the Ukrainian-Moldovan border). On the same day, Svoboda resumed the blockade of Russian trucks in Lviv region. The next day, February 28, the blockade spread to Zhytomyr region.
The Ukrainian Infrastructure Ministry in turn announced that blockade rallies were under way near the Domanove checkpoint in Volyn region at the border with Belarus and near a ring road outside the town of Stryi.
The ministry assured that the participants in the rallies did not block the traffic, and Ukraine continued fulfilling its transit traffic commitments.