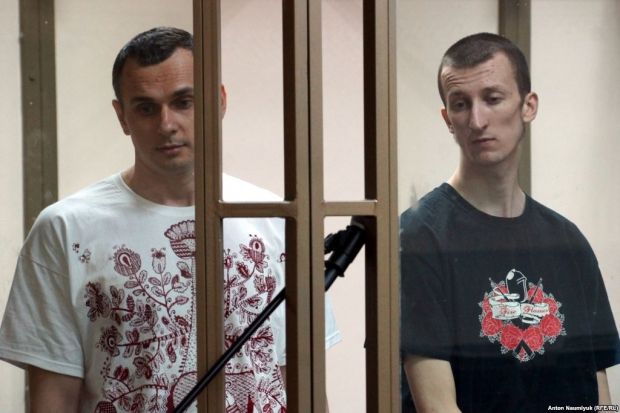 Sentsov, Kolchenko / Radio Liberty
"Ukrainian Justice Ministry's request on Sentsov, Kolchenko, Afanasyev and Soloshenko was received by Russian Justice Ministry on March 10 by fax. The documents will be reviewed in 30 days," the press service said, according to TASS.
The Justice Ministry added that the issues of handing over convicted persons between Russia and Ukraine are regulated by the 1983 Convention on the Transfer of Sentenced Persons and Russia's Criminal Procedure Code.
"On the basis of received request, Russia's Justice Ministry will demand from Russia's Federal Penitentiary Service the documents necessary for the Ukrainian side on the aforementioned sentenced persons envisaged by the aforementioned Convention," the ministry explained. "Upon submission, the documents will be checked for compliance with Convention's provisions, including for presence or absence of grounds that hamper the transfer of sentenced persons," the ministry added noting that the documents will then be sent to the Ukrainian side for review.
"Upon receiving from Ukrainian Justice Ministry necessary documents, including the court ruling on recognizing and implementing on Ukrainian territory the ruling of the Russian court, Russia's Justice Ministry will send then to Russia's Federal Penitentiary Service to submit it to the court in the order stipulated by Russian Criminal Procedure Code," the justice ministry said.
The final decision on transferring the sentenced persons in accordance with Russian laws will be made in court. "The court ruling that entered into force is sent by Russia's Justice Ministry to Ukrainian Justice Ministry as a basis for transferring the citizen of this country sentenced in Russia with a request to task relevant agencies of the aforementioned country to coordinate all issues of practical transfer of the sentenced person with Russia's Federal Penitentiary Service," the press service added.
On August 19, 2015, a military district court in the North Caucasus sentenced Ukrainians Oleh Sentsov and Oleksandr Kolchenko to 20 and 10 years in jail, respectively, on charges of setting up a terrorist organization in Crimea and preparing terrorist acts. A resident of Crimea, Gennady Afanasyev, got a seven-year prison sentence in connection with the same case.
The Moscow City Court sentenced Yuriy Soloshenko, the former director of the Znamya defense enterprise in the Ukrainian city of Poltava, to six years in jail on charges of spying for Ukraine on October 14, 2015.