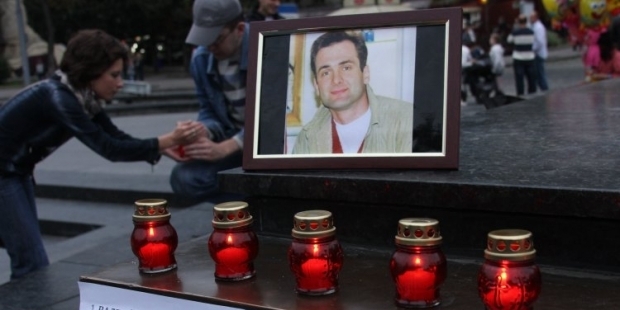 Georgy Gongadze became a Hero of Ukraine / president.gov.ua
"16 years after the tragic death of Georgy Gongadze, it is my great honor to convey the Gold Star of Hero of Ukraine to the wife of the murdered journalist, Myroslava. We appreciate Georgy's enormous contribution in the development of independent Ukraine, the protection of freedom of speech, the struggle for the development of independent media. Gia's dedication should be an example for bringing up a new generation of journalists and public figures," wrote Poroshenko.
In turn, Myroslava Gongadze, said: "Gia was always ready to sacrifice his life for Ukraine. And, if he were alive today, he would be there – on the eastern borders. If he were alive, he would be proud of this award."
The President thanked Myroslava for not breaking ties with her Homeland and, in fact, working as a Goodwill Ambassador, strengthening with the people's diplomacy the strategic partnership between Ukraine and the United States, which is especially important in countering Russian aggression.
"On March 22, Georgy Gongadze will be buried on the territory of the Church of Nikolai Neberezhniy. The ceremony will start at 12:00 in the church located at Hryhoriya Skovorody Street, 12," said Myroslava Gongadze's lawyer Valentyna Telychenko.
Read alsoCourt of Appeal upholds life sentence for Gongadze's murderDuring the funeral ceremony, there shall be no statements by politicians or other officials, she said.
"Also, no photo and video shall be allowed at the church premises. The family asks the reporters to refrain from asking for comments, and photo and videographers – to keep the distance," Telichenko said.
As was reported, Gongadze disappeared in Kyiv September 16, 2000. In November of the same year, the headless body was found in the woods in Kyiv region, which, according to experts, could belong to Gongadze.
Since that time, the body has been kept in the Kyiv morgue.
On January 29 2013, the Court in Kiev found guilty of Gongadze murder the ex-general of the Interior Ministry, Oleksiy Pukach, and sentenced him to life imprisonment.
In August 2005, then President Viktor Yushchenko posthumously decorated Gongadze with the title Hero of Ukraine Gongadze.