SBU paid with "blood and lives" for trust: President praises security agency on day of its 24th anniversary
"The Security Service had been radically changed in two years," the president's press service quotes Petro Poroshenko as saying during his address to the SBU officers on the agency's 24th anniversary.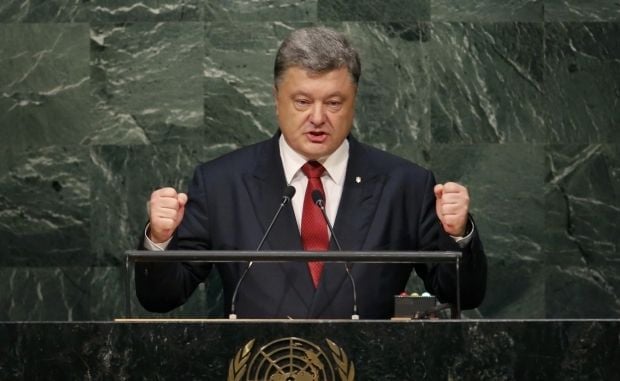 REUTERS
The president noted the participation of the Security Service units in the ATO: "They were among the first defenders of territorial integrity and sovereignty of Ukraine."
"The first hit, the first wounds, the first heroes who sacrificed their lives were the officials of the Security Service. The Service demonstrated efficient renovation, purification from foreign spies and high level of professionalism," Petro Poroshenko said.
Read alsoSBU suspects Russian JCCC officers of collaboration with Donbas terroristsDue to such transformations, the level of trust in the Security Service is as high as in the Ukrainian army, according to the president. "They paid their blood and lives for this trust," said Poroshenko.
Petro Poroshenko also noted that in 2015, over 200 terrorist attacks had been prevented in Ukraine. The majority of them were planned in Russia's Rostov and Belgorod regions.
Read alsoSBU say Azov member Krasnov, Russian intel plotted to blow up govt buildings in Kyiv"They planned terrorist attacks in Kyiv, Odesa, Mykolaiv, Kherson, Zaporizhzhia, Kharkiv, and Lviv. Their purpose is to intimidate the country and destabilize the internal political situation. They are the key element of the hybrid war against Ukraine," the president said.
"I would like to express gratitude to every official of the Security Service today," Petro Poroshenko added.
If you see a spelling error on our site, select it and press Ctrl+Enter