Crux: Pope announces April 24 collection for Ukraine
Describing it as an expression of his "constant thoughts and prayer" for victims of the on-going violence in Ukraine, Pope Francis announced Sunday that he's asked all the Catholic churches of Europe to take up a special collection on April 24 to fund humanitarian relief, according to Crux, an independent Catholic news site.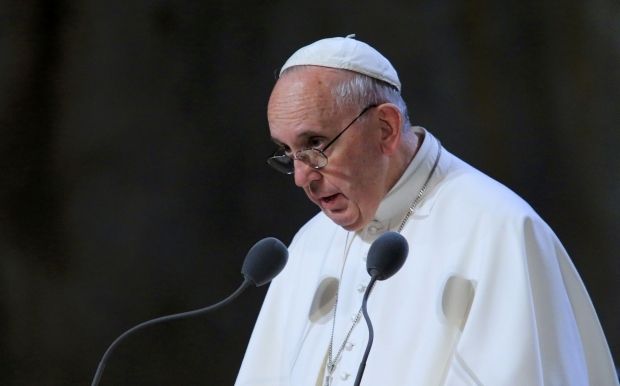 REUTERS
According to the Council on Foreign Relations, almost 10,000 people have been killed amid fighting between Ukrainian forces and Russian-backed separatists in the eastern part of the country, generating roughly a million new migrants and refugees and causing more than $115 billion in estimated economic losses, Crux wrote.
"My thoughts go to all the populations that hunger and thirst for peace, and in particular, of the drama of those suffering the consequences of the violence in Ukraine, of how many remain affected by hostilities that have already taken thousands of lives, and of how many have been driven to leave by the grave situation that still continues," the pontiff said Sunday.
He said that "above all, those affected are the elderly and children."
"Beyond accompanying them with my constant thoughts and prayers, I've decided to promote humanitarian assistance for them," he said, announcing the April 24 collection.
"I invite all the faithful to unite themselves to this initiative of the pope with a generous contribution," he said. "This gesture of charity, in addition to relieving material suffering, is intended to express my personal closeness and solidarity, and that of the entire Church, for Ukraine."
"I vividly hope that it can help to promote peace without additional delays and respect for law in that tested land," he said.
Pope Francis has called attention to the violence in Ukraine on multiple occasions, most recently in his March 27 Urbi et Orbi message for Easter.
In that address, the pontiff called for a "definitive solution" to the conflict and expressed his hope for "the Lord of Life" to inspire humanitarian aid, "including the liberation of those who are detained."
His new outreach comes after some leaders in Ukraine's five-million-strong Greek Catholic Church, which is in communion with Rome, objected to the pontiff's February 12 meeting with Russian Orthodox Patriarch Kirill in Havana, Cuba, where the two men issued a joint declaration seen by some Greek Catholics as an effort to muzzle criticism of Russia's role in the conflict.
Later, Francis acknowledged understanding why Greek Catholics might have felt "betrayed" by the declaration, describing the document as "debatable."
In early March, the pontiff met in the Vatican with Archbishop Sviatoslav Shevchuk and other leaders of the church's Permanent Synod, praising Greek Catholics in Ukraine for their "tireless witnesses of hope" amid hardships.
If you see a spelling error on our site, select it and press Ctrl+Enter