Volodymyr Lytvyn, leader of the parliamentary faction of eponymous bloc, personally milked a cow in Yalanets village of the Tomashpolskiy district of the Vinnytsia Oblast, at a farm belonging to "Podillya" company.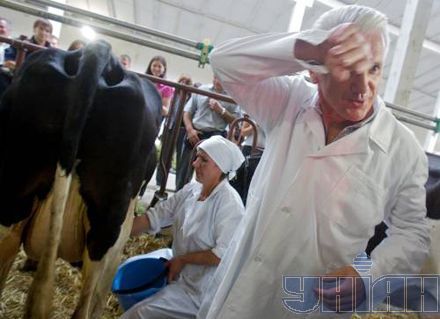 According to an UNIAN correspondent, President of the Ukrainian Central Bank Council Petro Poroshenko and V.Lytvyn pay a visit to the Vinnytsia Oblast today.
On the whole, there are more than 2.5 thousand cows at farms of "Podillya" company. A cow gives on average 8 thousand liters of milk a year (compared to 3.2 thousand liters of milk produced by a cow on average in the Vinnytsia Oblast).