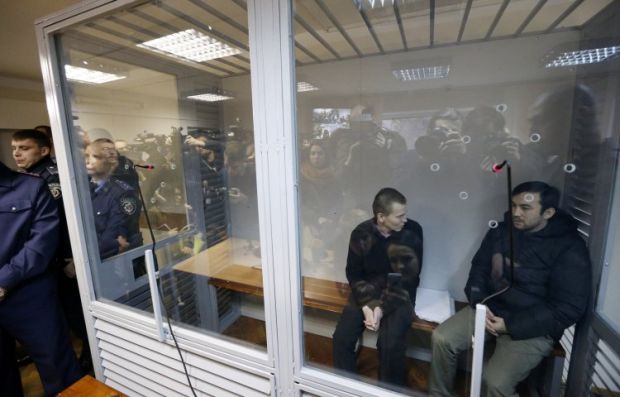 Photo from UNIAN
"We demand to sentence Alexander Alexandrov and Yevgeniy Yerofeyev to 15 years imprisonment each, with the confiscation of property and deprivation of the right to hold positions in military units and law enforcement agencies within three years," Krym said during the debate in Kyiv Holosiivskiy District Court, which considers the criminal proceedings against GRU officers.
In addition, during the speech of prosecutors in judicial debate, prosecutor Ihor Nimchenko reminded that the Russian Federation had refused from its military, because it did not want to admit that they came with arms into the territory of Ukraine as military personnel of the Russian armed forces.
"Russia abandoned its military, and every soldier should think that he will turn into a criminal in accordance with the Ukrainian justice," Nimchenko said.
Read alsoCaptured "Russian soldiers" deny serving in military during court hearingAs UNIAN reported earlier, two Russian GRU officers Aleksandrov and Yerofeyev were captured by Ukrainian troops near the town of Schastia in Luhansk region on May 16. They were injured in a shootout. Ukrainian soldier Vadym Puhachov was killed in a fight with them.
On May 18, the then SBU Chairman Valentyn Nalyvaichenko said that the Russian military would be put on trial under Article 258 of the Criminal Code of Ukraine for their participation in a terrorist organization.
Read alsoEXCLUSIVE: Journalists track down parents of Russian soldier on trial in UkraineOn May 22, Kyiv's Shevchenko District Court ordered that Russian citizens Aleksandrov and Yerofeyev be kept in custody until the investigation is underway.
On July 29, they were transferred from hospital to a pre-trial detention center.
On August 26, Chief Military Prosecutor of Ukraine Anatoliy Matios said that an investigation into the case of Aleksandrov and Yerofeyev captured by Ukrainian troops in the Donbas conflict zone on May 16 was over, and the indictment against them might be sent to court within 10 days.
On December 23, 2015, the court extended the detention period for Aleksandrov and Yerofeyev until February 20, 2016.
On March 21, Holosiivskyi District Court in Kyiv ruled to extend until May 19 the term of holding in custody of two Russian military intelligence officers Yevgeny Yerofeyev and Aleksandr Aleksandrov.