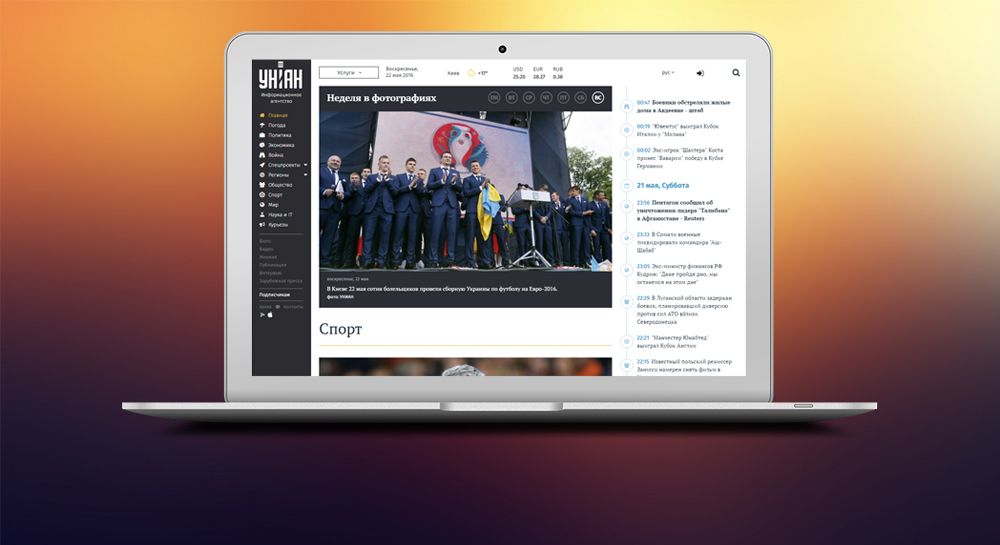 UNIAN
We were partly inspired by social networks – and now the website of UNIAN has some features that are common to those of Facebook – this is the continuous news feed, a huge variety of information available by scrolling down any page. All these features will let you, our dear readers, get more interesting and useful information and find much faster what you need.
UNIAN's revamped website can boast not only brand new appearance but also the new Pictures section, offering galleries of images of events in Ukraine and the rest of the world.
The website's adaptive design provides for a comfortable display on any type of device with the screen of any size, offering many interactive elements, allowing the user, for example, to ask any question with the help of UNIAN and get an answer. One can also bookmark the most important events of the past week or, by surfing the site in the morning before leaving for work, select articles and news reports for future reading and save them with just one click in the personal account on UNIAN.
We would be grateful if you share your opinion about our website in comments.
Along with the re-launch of our flagship information website, UNIAN also presents a completely new project – its weather service in Ukrainian and Russian.
Now you could learn the weather for travel or work, using this service. It offers the most accurate weather forecasts for more than 30,000 destinations in Ukraine and 113,000 cities, towns and villages around the world – more than any currently working Ukrainian- and Russian-language services.
In addition, our weather website will tell you about the weather on major highways and most popular resorts of Ukraine and beyond.
UNIAN's weather service is our new product, a new project created by UNIAN's hard-working team. It is completely different from the previous job done by our editors and journalists, and it will be of interest to those who are not into politics.
Sincerely yours,
UNIAN's Team