Georgia pulls out of CIS and calls on Ukraine to follow its example
Saakashvili told a big rally in his support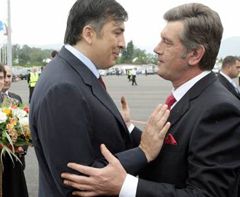 Victor Yushchenko and Mikheil Saakashvili
Georgia made decision to pull out of the Commonwealth of Independent States (CIS) [a grouping ex-Soviet states] and calls on Ukraine to follow its example.
According to Georgian and Russian media, Georgian President Mikheil Saakashvili said this on Tuesday.
"We are leaving the CIS for good… and call on Ukraine and other countries leave this body run by Russia," Saakashvili told a big rally in his support outside Georgia`s parliament.
If you see a spelling error on our site, select it and press Ctrl+Enter