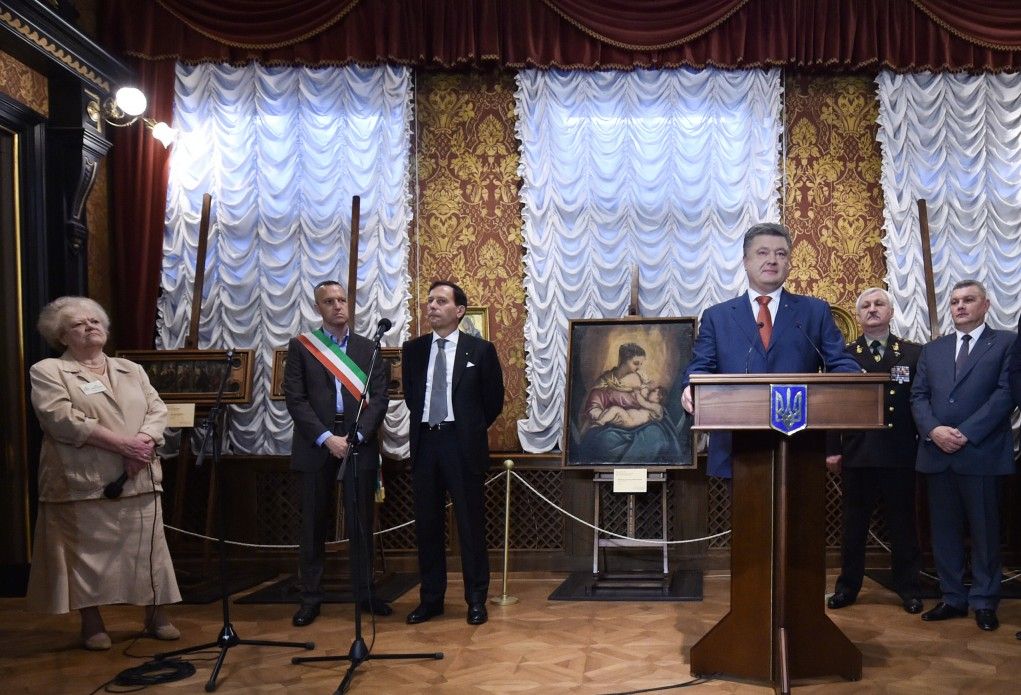 president.gov.ua
The Head of State noted the uniqueness of the exhibition, which represents 17 paintings from the Castelvecchio Museum in Verona found by Ukrainian law enforcers and border guards. These are unique cultural values – masterpieces by Rubens, Pisanello, Tintoretto, Bellini, Mantegna, Caroto and other famous artists, the press service said.
The President emphasized that the exhibition became possible due to an efficient cooperation of Ukrainian law enforcers, border guards, employees of military prosecution, Prosecutor General's Office and Ministry of Culture.
"I am happy that the Ukrainian community will have an opportunity to see these great pieces of art today," Poroshenko said.
According to the President, the given exhibition symbolizes Ukraine's responsible attitude to its cultural heritage and the achievements of European nations. The Head of State reminded that in 2009, in the same National Museum of Western and Oriental Art, the Italian Carabinieri had conveyed to Ukraine the artifacts of Kyivan Rus' smuggled to Italy. "It is a miracle that the stolen paintings haven't been damaged," said Poroshenko.
Read alsoRussia's FSB said to have set sights on paintings stolen from Italy, found in UkraineThe Head of State stressed that the pieces of art will be transferred to the Italian museum upon completion of the investigation. "This is the evidence of an efficient cooperation between Ukraine and the EU, Ukraine and Italy. It proves friendly and trustful relations between our states," the president said.
Poroshenko expressed gratitude to Mayor of Verona Flavio Tosi, Embassy of Italy to Ukraine, staff of the National Museum of Western and Oriental Art, the law enforcers and the Ministry of Culture.
In his turn, Ambassador of Italy to Ukraine Fabrizio Romano expressed gratitude to the Ukrainian president and noted that the exhibition would further strengthen the relations between Ukraine and Italy. According to him, this exhibition has the biggest cultural value in the history of bilateral relations of the two countries.
Mayor of Verona Flavio Tosi expressed gratitude to the president. He noted that the given event was a true holiday for the whole country.
Read alsoEU buys $525 mln worth of clothes from Ukraine in 2015As a token of gratitude, Tosi announced that all Ukrainian citizens would have an opportunity to visit Verona museums for free. He also granted honorary citizenship of Verona to the Ukrainian president and invited him to visit this Italian city at his convenience.