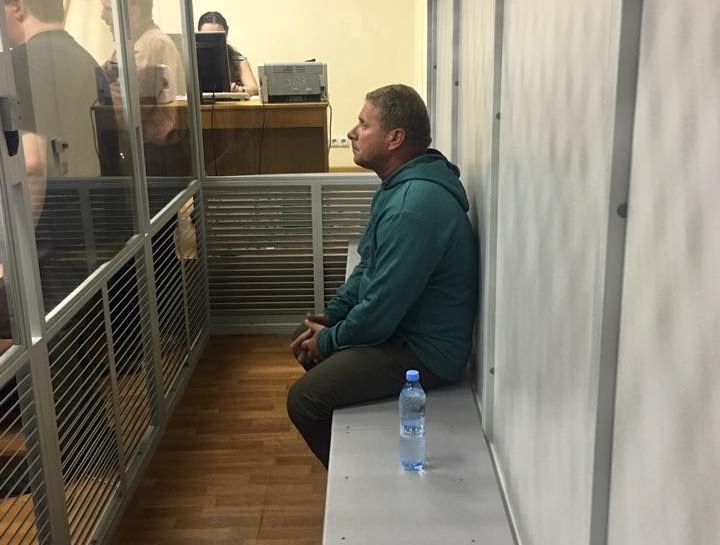 facebook.com/applecrysis
"'Batya' was locked up for two months. A fight in the courtroom ensued. The judge was poured water on," a journalist Serhiy Ivanov wrote on Facebook.
Following the detention of Savchenko's former commander, MP Yehor Sobolev said: "The detainee is a legend of Aidar – Valentyn Lyholit, Batya. The commander of Nadia Savchenko. He was detained by military prosecutors at the request of leaders of the separatists from Severodonetsk – a former mayor and his deputies. It was during their rule when the city became part of 'LPR.' They accuse Batya of the fact that his troops took away their camera and other tangible assets."
Reporting from the courtroom, Serhiy Ivanov said that the hearing was attended by non-uniformed men sporting balaklavas, one of them carrying an automatic gun.
Read alsoUkrainian court authorizes detention of Russian Black Sea Fleet commander"The cops said those were the men from the military special forces. There was a short altercation, after which the military were taken out of the courtroom. If they were actually the representatives of the Armed Forces of Ukraine, I have no idea what they were doing at the courtroom," the journalist wrote.
The MPs present at the hearing had tried to bail out the detainee, but the judge ruled for the arrest anyway.
Read alsoRussia probing Savchenko's lawyer for extremism"The people who liberated Ukraine are being arrested. Lyholit was the legend of the Aidar battalion. He saved this country. The Ukrainian judge has just put him behind bars on charges put forward by a separatist, while the Ukrainian police try to imprison him," said Yehor Sobolev, the Ukrainian MP from Samopomich faction, head of the parliamentary committee on preventing and fighting corruption.
As of Saturday morning, the foghters from Aidar and Donbas battalions keep blocking the exits from the Pechersk court, preventing the arrested commander to be transfered to a pre-trial detention facility. Police have refrained from active intervention. 
At the same time, the Prosecutor General's Office reported that a criminal investigation had been launched against two fighters of the Aidar volunteer battalion. "These persons are suspected of setting up an armed gang aimed at attacking people; of the attack in order to seize other people's property, combined with the threat of violence dangerous to life and health of the person attacked (robbery), coupled with breaking and entering, committed by an organized group; of car theft, committed several times by an organized group, coupled with the threat of violence dangerous to life and health of the victim; of the illegal abduction of more than two persons in a manner dangerous to life and health of victims, committed with the use of weapons by an organized group; of misappropriation of passports and other important personal documents, committed by an organized group," reads the statement.