Boxer's crush on supermodel Karolina Kurkova
Wladimir Klitschko takes a right hook in the heart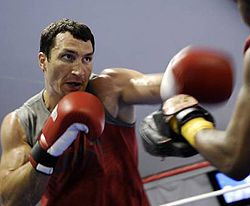 IBF and IBO heavyweight champion Volodymyr Klitschko during the training. Miami, February 6
He is a boxing world champion from the Ukraine, age 32, a top athlete - and no dumb jock, as his PhD in sports science proves.
She is a supermodel from the Czech Republic, aged 24, blonde, tall, and the third most-booked model in the world, after Gisele Bundchen and Heidi Klum.
After rumours sparked about Wladimir Klitschko and Victoria's Secret model Karolina Kurkova, the boxer talked to BILD about his supermodel crush. The couple were first seen flirting during a photo shoot for 'Vanity Fair' in New York City.
Klitschko told BILD: "We get along well and are good friends. It's all very fresh. We'll see how it progresses. I don't want to say more at this time.
"She is a very open girl, very energetic. She has a great sense of humour, which I really value." Clearly, the heavyweight champ thinks Karolina is a knockout!
They first met at a New York Rangers game at Madison Square Garden, but it wasn't until the 'Vanity Fair' shoot that the sparks started flying. "We had a lot of fun together," Klitschko added.
The boxer has invited the model to accompany him to the Power Child Gala in Munich on September 19. The next day, they plan to go to the Octoberfest opening. He is even having a traditional dirndl dress sewn for his latest love to wear. "I explained what it was to her, saying that it's very open around the top…"
There's no doubt that Klitschko and Kurkova are more than just a summer fling.
If you see a spelling error on our site, select it and press Ctrl+Enter