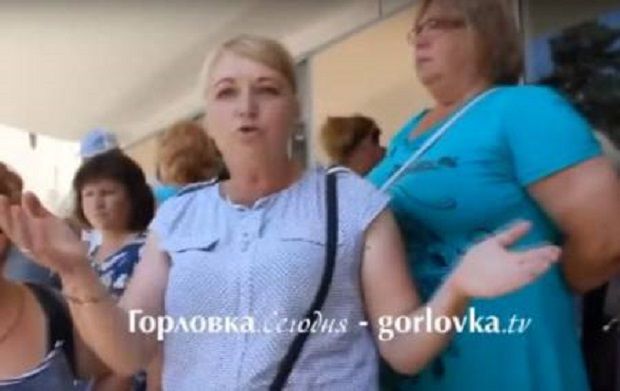 Screenshot
Over a thousand people, mainly traders from the local market, are reported to have gathered outside the city administration protesting against the militants' methods for extracting money and demanding a system like what they had under Ukrainian government control, khph.org reports.
Ironically, it seems that the last major demonstration in Horlivka in 2014 was in favour of the May 11 pseudo-referendum, with the residents wanting to join Russia.  Since Russia has changed its position many times, with the militants forced to follow suit, it is worth recalling that the militants who first seized control were assuming – and promising - that Donbas would join Russia, and they did have support from a part of the population.
Two years later the situation – and the attitude to Ukraine - is dramatically different. Over a thousand small business owners gathered on July 16 outside the city administration.  They were protesting against a new 'law' on small businesses which increases tax and 'customs' tariffs, and brings in a system where absolutely everything, including goods obtained before the militants seized control, must be included in an inventory of goods liable to taxation.
Read alsoZakharchenko's ex-guard surrenders to Ukraine forcesThey had gathered, one of the women explained, to get these custom tariffs removed. Otherwise all of them would be bankrupted within a month, and they won't be able to work.
The protesters said that they were there to demand a simplified system, without the current corruption where everybody is taking their cut on any pretext.  Under the Ukrainian government, one woman said, they only had to register once a year, they paid their money and that was enough. 
Read alsoNo direct talks with DPR-LPR terrorists possible: SBU chief's advisor"We pay everywhere. Is our state that isn't recognized by anybody not taking too much?  Who are they anyway? Neither Ukraine, nor Russia, who are we?  And each day they think up laws!" the protesters said.