Prosecutor's Office publishes evidence of Putin adviser's involvement in war in Ukraine
The Prosecutor General's Office (PGO) of Ukraine has published evidence of Russian authorities' involvement in the infringement of Ukraine's territorial integrity and the war of aggression against the country, the PGO press service reported.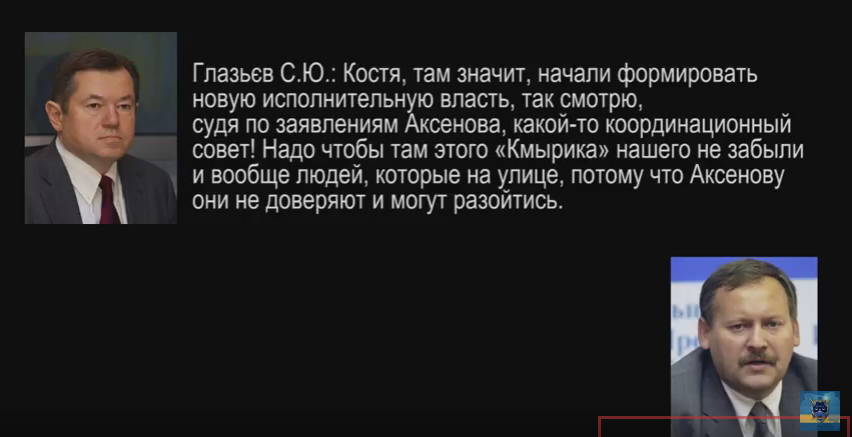 Screenshot
A key player in the organization of the crimes is Sergey Glazyev, adviser to the president of Russia, according to a video posted on the YouTube-channel of the Prosecutor General's Office.
The video plays fragments of a conversation between Glazyev and State Duma Deputy Konstantin Zatulin.
"Zatulin reports to Glazyev that he is leaving for Crimea to monitor the appointment of proxies in the self-proclaimed government of the so-called Republic of Crimea, who would continue working on further occupation of the peninsula," the PGO statement read.
In the video, Putin's adviser instructs so-called Crimean "leader" Sergey Aksenov to arrange the holding of a "referendum" on the peninsula.
Further, one can hear audio of Glazyev and Zatulin discussing issues related to the funding of mass disorder campaigns and the seizure of city council administrations in Odesa and Kharkiv regions, as well as in Crimea.
The presidential adviser also speaks to a representative of Evgeny Zhilin, leader of Oplot, which is a Kharkiv nongovernmental organization, discussing the allocation of funds to instigate unrest in Kharkiv.
Read alsoPutin says his new trade envoy won't "frighten" Ukrainian authoritiesEarlier, the Prosecutor General's Office of Ukraine said it suspected 18 members of the Russian government and the leadership of the Russian Armed Forces of being involved in the unrest. 
If you see a spelling error on our site, select it and press Ctrl+Enter