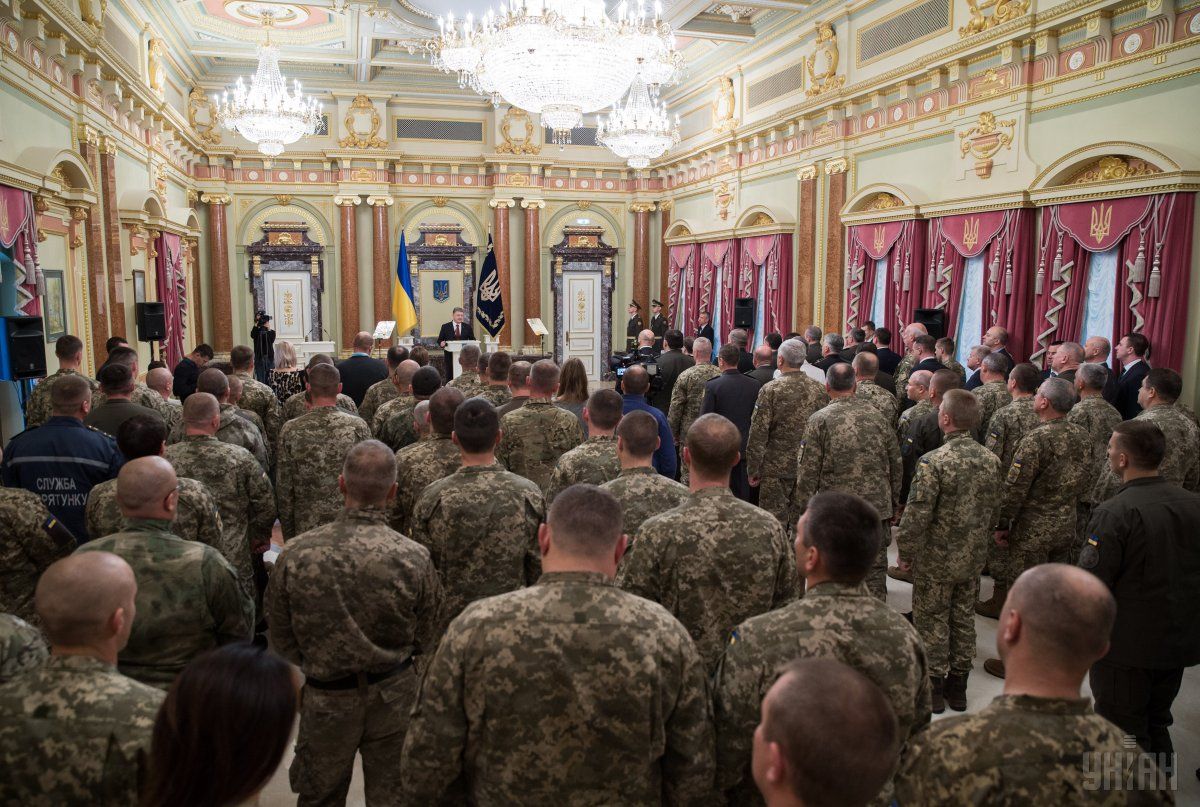 Photo from UNIAN
"October 14 symbolizes inextricable link of many generations of defenders of Ukraine. The Day of Defender of Ukraine was consecrated by blood of our soldiers and tears of mothers," Petro Poroshenko said at the ceremony of taking oath by students of Ivan Bohun Military Lyceum of Kyiv on the Day of Defender of Ukraine, according to an UNIAN correspondent.
"2,533 soldiers were killed defending Ukraine from Russian aggression," the president said.
He asked the attendees to honor the memory of Ukraine's defenders with a moment of silence.
Petro Poroshenko noted that constant reminders about war in his office were two fragments: a doll from the Donetsk airport presented by "cyborgs" and a soldier's metal mug. "These relics do not let me forget about the black cloud hung over Ukraine from the eastern neighbor," he added.
"When I look into the eyes of our soldiers, when I hear their confident voices, when I see how deftly they work with weapons and military equipment, I become convinced that Ukraine must win," the president emphasized.
Read alsoUkraine celebrates Defender Day"I congratulate all defenders of Ukraine who ensure peace of our state on the frontline or with their daily work. I congratulate the Armed Forces, National Guard, Security Service, State Border Service, Foreign Intelligence Service, law enforcers and other security structures," Petro Poroshenko said.
The president stressed that he was especially grateful to the women working in those structures. About ten thousand women serve only in combat units.
Read alsoArms of Ukrainian victory"I am deeply grateful to volunteers and military chaplains. I am grateful to everyone involved in the reinforcement of our defense capacity," the president noted.