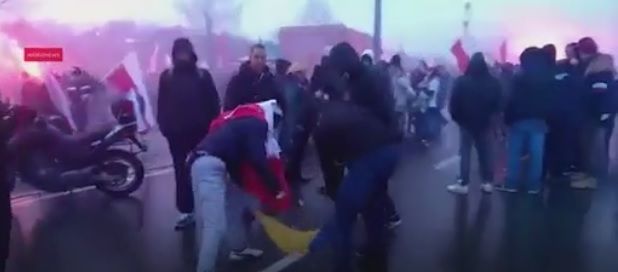 During a march organized by nationalists as part of commemorations marking Polish Independence Day, a group of men in ski masks and football scarves stomped on the Ukrainian flag and set it on fire, Radio Poland reported.
They chanted: "God, honor and homeland," "It's us, it's us, Poles" and "f**k UPA and Bandera," referring to World War II-era Ukrainian Insurgent Army paramilitary army, and Ukrainian nationalist leader Stepan Bandera, who fought against Poland's underground army.
Police are checking media reports and online recordings of the incident, police spokesman Mariusz Mrozek said.
Once their investigation is complete they will hand it over to the Polish prosecution, he said.
The Ukrainian embassy in Poland had earlier condemned the burning of the Ukrainian flag and said it expects Polish authorities to punish those responsible.
Vasyl Zvarych from the Ukrainian embassy in Poland told Ukrinform, a Ukrainian multimedia platform, that he expects an urgent response from Polish authorities, to identify and punish the vandals.
"It hurts to look at these shameful actions," Zvarych said.
"Actions which offend the national symbols of a sovereign country, especially one that is a friendly neighbor […] is unacceptable and should not happen in a country where we are developing a strategic partnership," he said.
Zvarych said that he is sure most Poles have a positive attitude towards Ukrainians.
According to Poland's penal code, vandalism of a national symbol of another country carries fines or jail time, but only when the flag is publicly and officially displayed by its own or Polish authorities.
An estimated 75,000 people took part in the nationalists' march, the largest of a number of processions on Warsaw's streets, as Poland marked 98 years since it regained independence from foreign occupation on Friday.