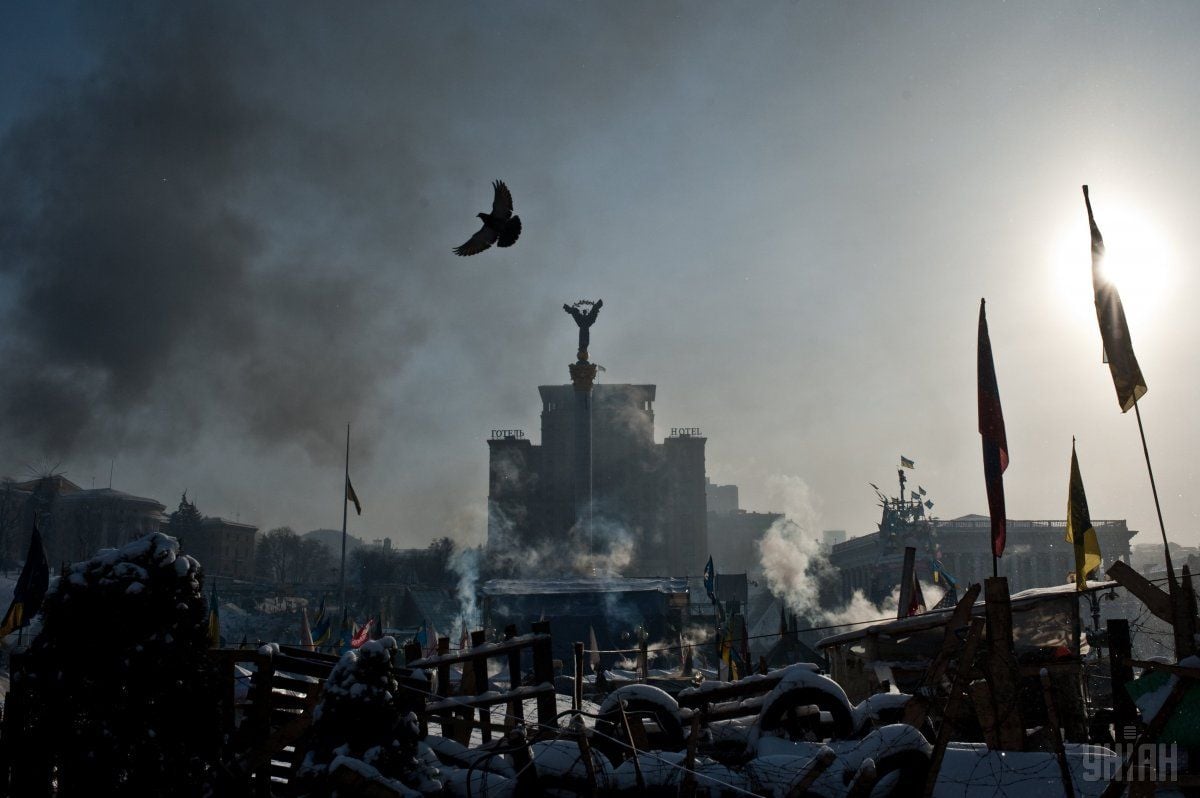 Photo from UNIAN
Late November 2013, the refusal of Viktor Yanukovych-led Ukrainian authorities to sign off the Association Agreement with the European Union has triggered the most massive popular uprising in the modern history of the state.
November 21, 2013 the Cabinet of Ministers decided to suspend the process of preparation for the conclusion of the Ukraine-EU Association Agreement, which was to be signed at the Vilnius summit of Eastern Partnership on November 28-29, 2013.
The protests began on the same day. In particular, at Kyiv's Independence Square  (Maidan Nezalezhnosti], the protesters set up several tents and stayed there overnight. In the early hours of November 30, 2013, the special police task force Berkut slammed down on the rally, beating up dozens of activists, mostly students. This excessive violence on part of the law enforcers sparked public outrage, with hundreds of thousands of people flooding the streets
Read alsoEvidence says shooting of Euromaidan activists was planned – LawyerMass protests lasted from late November until late February 2014 and were branded the Euromaidan, Maidan, and later on – the Revolution of Dignity.
As a result, late February, the then President Viktor Yanukovych fled to Russia following a mass shooting of unarmed civilians in the city center.
The Verkhovna Rada of Ukraine gained full authority and on May 25 appointed the presidential election in Ukraine.
Petro Poroshenko won the election and on June 27, 2014 signed off the long-awaited Ukraine-EU deal in its entirety.
Today, on the occasion of the Day of Dignity and Freedom, Kyiv as well as other cities is holding memorial meetings, ceremonies and art shows with the participation of representatives of government, local authorities, people's deputies, participants of the revolutionary events of 2004 and 2013-2014, ATO combatants, representatives of NGOs, volunteer movements, youth organizations, and clergy.
Read alsoSecurity in Kyiv to be beefed up for events to mark Euromaidan anniversaryFlowers will be laid to the monuments and memorials to the Heroes of the so-called Heavenly Hundred (activists killed during protests) and fallen Ukrainian soldiers.
Read alsoPGO questions Poroshenko in Euromaidan case – presidential spoxThe Ukrainian House is hosting a multimedia exhibition "Our Courageous Heroes", dedicated to the 100th anniversary of the Ukrainian Revolution. The expo consists of six modules, which represent reconstructed character types of different revolutionary epochs. The exhibition is complemented with themed archive videos and art collages. In 2017, the exhibition will be traveling across the Ukrainian regions and beyond.
6,000 law enforcers will be ensuring public order in Kyiv November 21-22 and another 15,000 – across Ukraine.