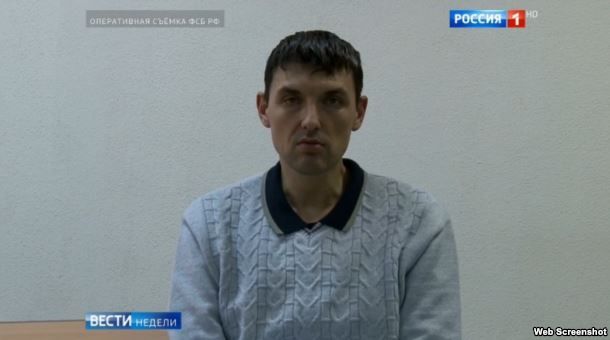 Screenshot
"Now we are witnessing a continuation of the Russian FSB's soap opera of fakes titled 'Wherever you look – they [enemies] are everywhere.' It's a new episode in the series, another arrest of the alleged "Ukrainian intelligence officers," he said, according to 112 Ukraine TV channel.
Lysenko also added that the Russian secret services had always resorted to the standard techniques.
"We predicted that this may continue, because they see a real 'Klondike' on the Crimean peninsula. This time, these are retired officers who stayed there even before the Russian aggression and occupation of Crimea, these are the people who had wrapped up their military service long time ago. They did some business, they lived there with their families. Therefore, there is no great need [for the FSB] to specially seek for anyone," he said.
Read alsoRussia claims another two Ukraine "saboteurs" in occupied Crimea detainedAs UNIAN reported earlier, the court in the Russian-occupied Crimea has ruled to hold in custody another two "Ukrainian saboteurs" after their detention by the FSB in a spree of arrests the Russian security service said were connected with a crackdown on an alleged subversive plot of the Ukrainian military intel against the peninsula's critical infrastructure and military bases.
The occupation forces claim one of the detainees in Colonel of the Main Intelligence Directorate of Ukraine's Defense Ministry Oleksiy Stohniy. Another man arrested is allegedly a Ukrainian officer Hleb Shabliy.
Read alsoDef. Ministry on new "Ukrainian saboteurs" in Crimea: FSB "lie factory"On November 10, the FSB security service said that "the members of a terrorist group of the Main Intelligence Directorate of the Ministry of Defense of Ukraine" Dmytro Shtyblikov, Oleksiy Bessarabov, and Volodymyr Dudko, had been arrested in Crimea a day earlier.