Poroshenko on Year of English in Ukraine: Knowledge of foreign language opens new world for Ukrainians
Ukrainian President Petro Poroshenko met with civil activists and summed up the results of the Year of English in Ukraine, according to the president's press service.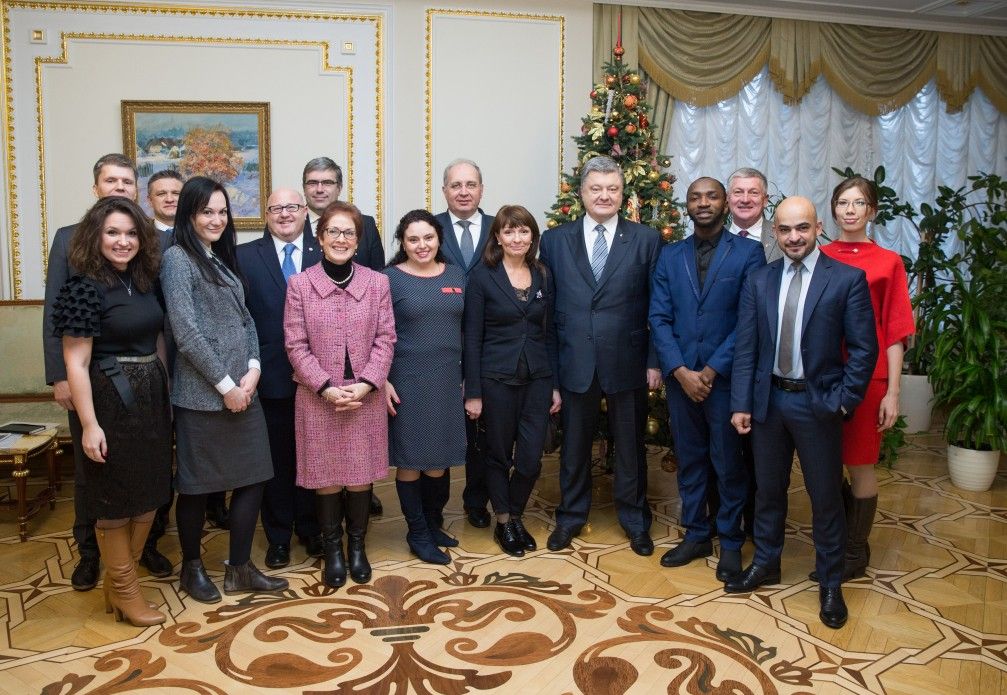 president.gov.ua
The President emphasized that even though the Year of English was about to complete, mass study of English in Ukraine will not be finished. He noted that the process was only at the outset. With the support of the international NGOs, complex programs and free-of-charge language courses have been established. They will be continued next year, the press service reported.
The Head of State noted that knowledge of English was extremely important, for it provided an opportunity to study in prestigious foreign universities, get a prospective job, read original world classic literature, travel freely, be aware of the last news of science and technology, maintain "people to people contact."
The President is confident that knowing English opens new horizons for everyone who want to be a part of the modern world. He called this year's project Go Global very important, ambitious and successful. According to Poroshenko, "it is aimed to change Ukraine, make it a real European state for the majority, especially young generation, to have an opportunity to speak English."
"Knowing foreign language is a feature that opens new universe for Ukrainians," Poroshenko said.
The Head of State noted that foreign professionals and volunteers were involved in teaching English. 120 volunteers from 40 countries came to the Ukrainian schools to open summer English camps GoCamps that contained 200,000 children from all over Ukraine. He expressed confidence that 100,000 more children would be able to join the program in 2017. It is planned to involve 1.5 million Ukrainian children in the program by 2020.
"This is a very ambitious task. It is important to implement it not only on the Year of English in Ukraine but also in the future," the President stressed.
Read alsoUkrainian policemen to study EnglishPoroshenko particularly emphasized the fact that children from Donetsk and Luhansk regions had been able to study English as well. This year, over 300 pupils from eastern Ukraine had an opportunity to overcome the language barrier and practice English. Over 500 IDPs participated in the pilot project "Business English Online for IDPs" and felt the support of the state, which did not leave them alone with their problems. He also noted project "English Teachers – Agents of Change" implemented successfully all over the country in 2016.
The President emphasized that Ukraine was preparing to the Eurovision 2017 and stressed the importance of involving English-speaking volunteers in the Eurovision Volunteers Family program who will host the contest and help thousands of tourists during the event.
In her turn, U.S. Ambassador to Ukraine Marie Yovanovitch noted that Ukraine had significantly improved the level of knowledge and usage of English among government officials. According to her, English teaching projects of 2016 have covered a great number of children, youth and adults, especially English teachers in small towns of Ukraine. She said that those projects would be continued in 2017 as well.
"I am really proud to be here today. This is a wonderful occasion to celebrate the Year of English in Ukraine. We are proud that we can support Ukraine and its peaceful future," Yovanovitch said and informed on the projects of studying English implemented in 2016 and planned for 2017. Ms. Ambassador also noted the high level of interaction between the governmental structures, parliamentary body and NGOs in the implementation of numerous projects on studying English in Ukraine.
People's deputy of Ukraine, one of the activists of Go Global project, Mustafa Nayyem expressed gratitude to the President for supporting the project and emphasized its importance and unique nature, especially in the context of promotion and studying English in small towns of Ukraine, for small businesses, civil servants and local government representatives.
"It is extremely important for me that our project, and it was a priority, has been implemented in small towns of Ukraine where local residents have never seen foreigners," Mustafa Nayyem said. He also informed that about 300 children from eastern Ukraine had studied English in camps in 2016 and expressed confidence that over 600 such children would join the program in 2017.
If you see a spelling error on our site, select it and press Ctrl+Enter