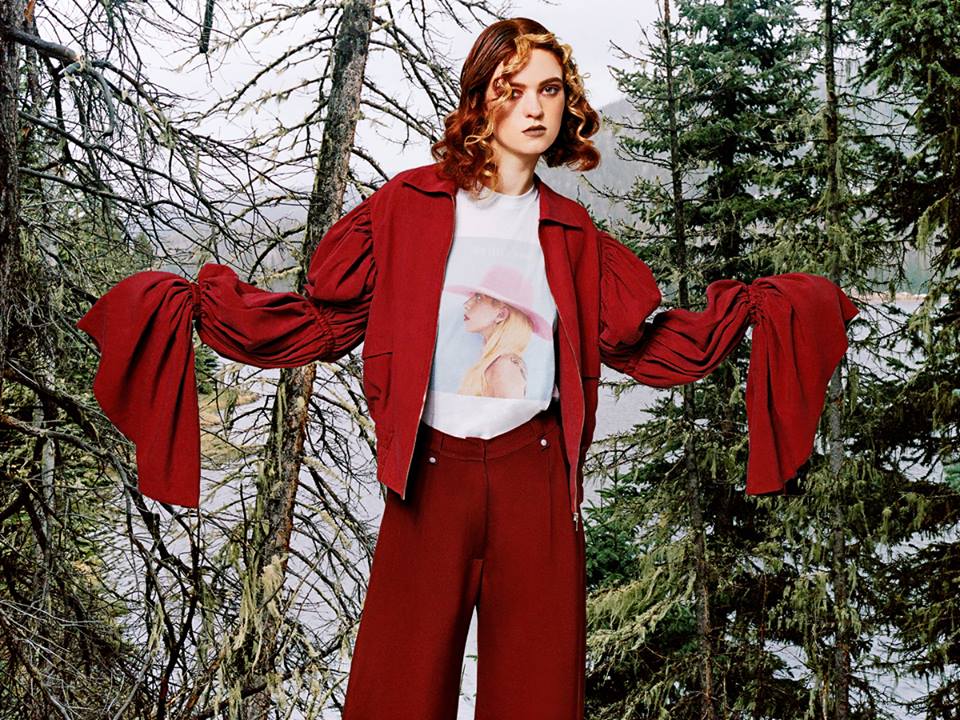 https://www.facebook.com/Synchrodogs/
As for the other clothes in the mix? Those aren't a part of Lady Gaga's merchandise line. Instead, the artist seems to have her eye on Ukraine: Among the tour tees are looks by Ukrainian designers, such as LVMH Prize–nominated designer Anton Belinskiy, Masha Reva, Yulia Yefimtchuk, Zirochka Ukraine, Yana Chervinska, and the underground label Drag & Drop. Though it might seem unusual, the injection of Ukrainian fashion wasn't entirely random. The singer collaborated with the creative studio Lobster Eye and the merchandising company Bravado, which tapped Ukrainian talents like photography team Synchrodogs, Kyiv-based stylist and Zirochka Ukraine designer Dariia Lagenberg, and the up-and-coming modeling agency Cat-b to produce the lookbook. Synchrodogs, made up of the duo Tania Shcheglova and Roman Noven, has long been a major creative force in Kyiv and has gained international recognition for their otherworldly, warped style, according to Vogue.
Read alsoUkrainian ballet dancer Sergei Polunin stars in Diesel's Make Love Not Walls campaign – mediaAccording to Shcheglova, the concept for the lookbook was inspired by Ukraine itself. "We felt that Ukrainian landscape would be a perfect fit for the lookbook as it is so different every time, sometimes raw and messy, still full of harmony, strong, even intense. We like combining things that look like they should never be together," she wrote to Vogue.com. As for Lagenberg, she also had a bit of Kyiv in mind when styling the collection. "I was inspired by girls being forever young," she wrote. "And Kyiv residents and everything here I see."
The choice to use Ukrainian-based creatives comes at a time when Eastern Europe fashion is having quite the moment. But the country's growing fashion industry isn't completely foreign to Lady Gaga: The artist wore a hat by Ksenia Schnaider on the cover of her "Dope" single release in 2013. Though, no word yet if she'll be greeting Kiev's Little Monsters on her tour.