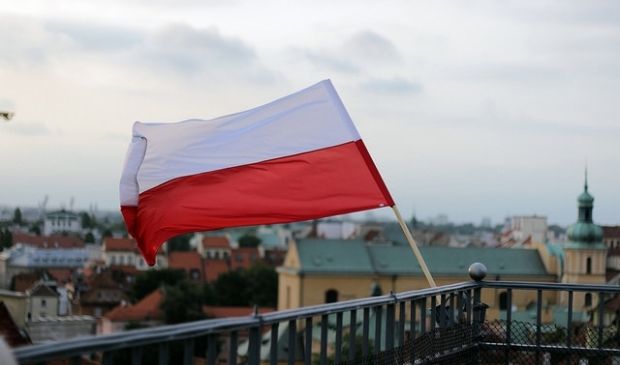 flickr.com/photos/lplewnia
Not even a million Ukrainians who've come to the nation of 38 million since a pro-Russian insurgency erupted in their country three years ago have been enough to sate a labor market stretched by record-low unemployment and economic growth on track to top 3 percent in 2017, Dorota Bartyzel wrote in an article titled "Poland Can't Get Enough of Ukrainian Migrants" published on March 7, 2017.
The unprecedented numbers have already helped keep a lid on wage growth while stabilizing an economy that stumbled last year. As policy makers review borrowing costs this week, the arrivals have also meant a boon for a central bank that's prized stability in interest rates. On pause since March 2015, the 10-member Monetary Policy Council will leave its benchmark at a historical low of 1.5 percent again on Wednesday, according to all 30 analysts surveyed by Bloomberg.
"The entry of one million Ukrainians implies that demography is not destiny," Tomasz Wieladek, an economist at Barclays Plc, said in a report. "The disinflationary pressure in the labor market will likely contribute to low core CPI inflation and hence allow lower interest rates for longer. The mitigation of population aging from migration will likely contribute to higher long-run growth."
Bus Transit
Russian President Vladimir Putin's annexation of Crimea in 2014, followed by a separatist conflict and a two-year recession, sent more Ukrainians to neighboring Poland in search of better lives. Close cultural and linguistic ties, as well as convenient bus transit across the border, made Poland an obvious destination.
While the wave of migration into the European Union is largely fueled by those escaping armed conflicts in Syria and North Africa, Ukrainians are drawn to Poland by higher wages and relative ease of access to its job market. The number of Ukrainians absorbed by Poland is comparable to the total of migrants that came to Germany – a country about double the size – in 2015-2016, according to official estimates.
Read alsoPoland, Russia, Hungary among Ukrainians' popular destinations – border agency"It's clearly up to a combination of not only economic but also political reasons that the size of Ukrainian immigration has become exceptionally huge," said Jakub Binkowski, an immigration expert at the Polish Union of Entrepreneurs and Employers.
Although the number of Ukrainian workers in Poland already topped a record 1.3 million last year, almost half of employers sought out Ukrainians because no local hires were available, according to a survey of 300 companies in January. Almost 40 percent of firms in sales and services rely on Ukrainians, said Work Service SA, a recruiting and human resources company in Warsaw that conducted the study.
Economy Rejuvenated
The immigration wave from Ukraine has effectively delayed the graying of Poland's population by five years, according to PKO Bank Polski SA. That's no small feat for one of the fastest-aging and lowest-fertility nations in Europe. 
National Bank of Poland Governor Adam Glapinski has already warned that the country is facing a deficit of workers, saying unemployment is below its "natural level." Members of the rate-setting council expressed concern that wage growth might quicken "substantially" in the coming quarters as joblessness declines, according to minutes of the central bank's February meeting.
Read alsoUkrainians overqualified for Polish job marketSome measures proposed by the government, such as a plan to lower the retirement age, may only compound Poland's woes by shrinking labor supply. The jobless rate in Poland has been at the lowest since the data series started in 1992. It was 5.5 percent last quarter, compared with 5.9 percent in the prior three months.
Migrant Dependence
Growth in average gross wages accelerated to 4.3 percent from a year earlier in January, the fastest in five months, after averaging about 4 percent in 2016. Without easing the strains on the labor market, higher salaries could put even more pressure on inflation, which in January already reached the central bank's target range for the first time in four years.
Forward-rate agreements, derivatives used to bet on interest rate levels, reveal expectations that Poland's next policy move with be to increase borrowing costs in 2018.
Poland needs an additional 5 million workers within the next 20 years to keep up economic growth, according to the Polish Union of Entrepreneurs and Employers. It's set to receive about 100 billion euros ($106 billion) in EU development funds over the next five years, and the country risks spinning its wheels if the labor supply is thinning.
"Poland is just about to set in motion major investment projects and needs to speed up work on their completion," said Maciej Witucki, head of Work Service. "Without workers from Ukraine, the risk that companies will miss their plans becomes more and more realistic."