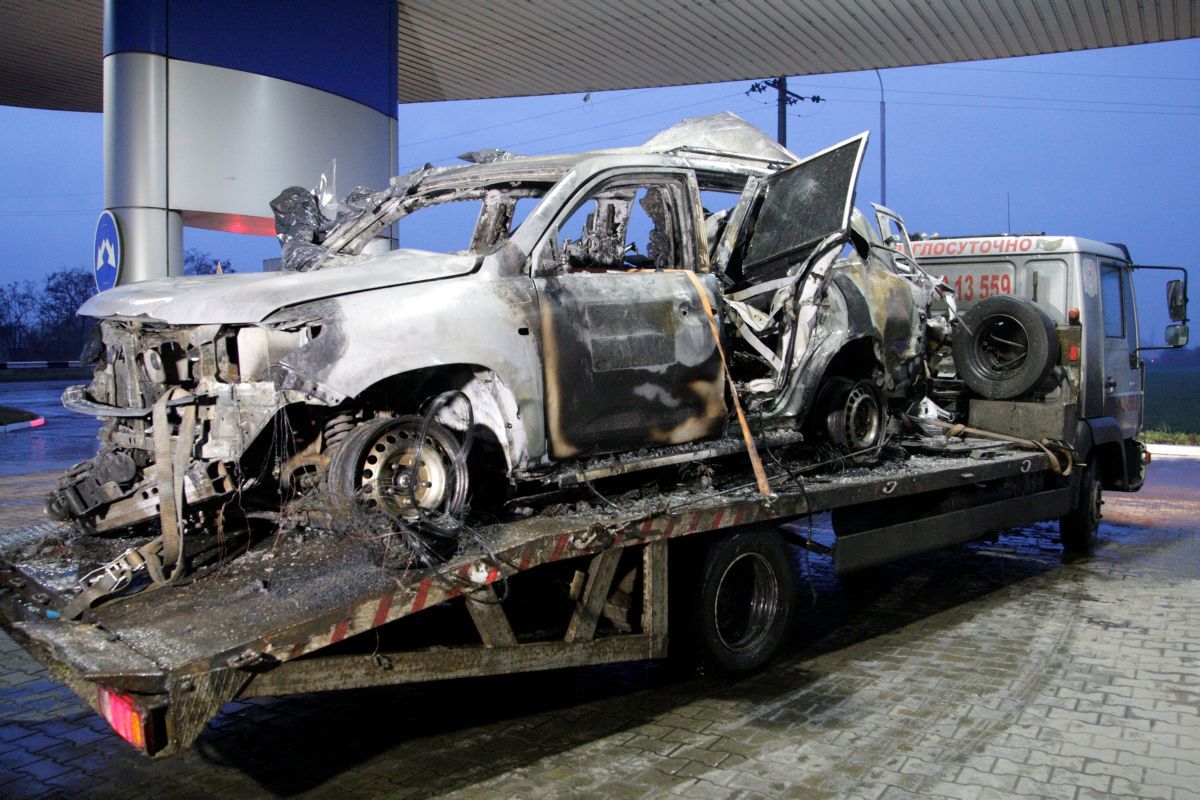 REUTERS
The Ukrainian Defense Ministry responded to the accusation and dismissed it as groundless and fake. And interactive map developed by the Ukraine Crisis Media Center that tracks fighting in the occupied eastern territories shows that Ukrainian armed forces have not shelled any areas around Pryshyb, the village in Luhansk oblast where the OSCE vehicle hit a mine. On Aril 23, all shelling in Luhansk province took place in the area of Stanytsia Luhanska and Valuiske, areas held by the Russian-backed militants, according to Stopfake.org.
Read alsoOSCE SMM to continue its work in Donbas - ApakanThe fake claim was initiated by "LPR" representative Vladislay Deynego, who claimed that "one can hear shelling close to the site where the tragedy occurred; there were about ten explosions." "This is how the Ukrainian side is hindering the investigation" he claimed.
Russia today, RIA Novosti, Komsomolskaya Pravda, Vesti.ru, Channel 5, and scores of other Russian propagandist sites disseminated this false report, according to Stopfake.
During an April 24 briefing about the mine incident, OSCE Ukraine Deputy Chief Monitor Alexander Hug did not mention any Ukrainian obstruction into the investigation, nor did he say that the area was being shelled.
The Ukrainian Defense Ministry also dismissed the shelling accusations as a lie. Ukrainian military have not violated the ceasefire in this area at all, the Ministry said, Stopfake.org said.
Read alsoThe mine as a language of Russia's dialogueUkrainian Defense Ministry spokesman Colonel Oleksandr Motuzianyk said the area where the OSCE vehicle hit a mine has been under separatist control since the summer of 2014. He pointed out that, according to the Minsk ceasefire agreement, front areas are to be de-mined, something that Russian-supported militants have ignored.
There is no mention in social media of any shelling in the region where the OSCE vehicle came upon a landmine. There is, however, a posting about tractor carrying civilians hitting a mine in another area of Luhansk region controlled by the militants.
Read alsoRT crew arrive at site of OSCE car blast in just three minutes – NGOUkrainian MP and military expert Dmitry Tymchuk who coordinates a fact-checking initiative called Information Resistance reported that in just three minutes after the OSCE vehicle hit the mine, an RT camera crew arrived on the scene, followed closely by a jeep of civilians who began issuing orders to RT "journalists."