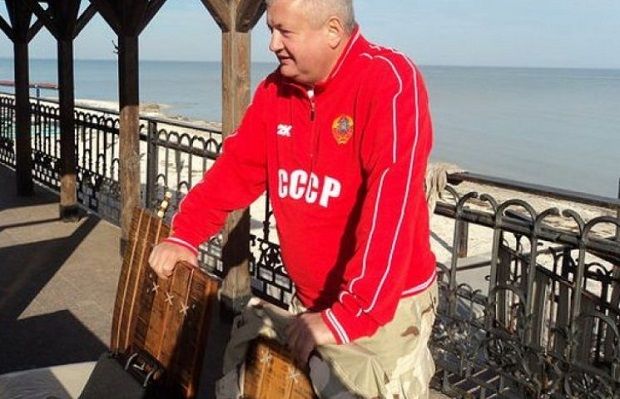 Hlukhoveria was an active user of the Russian Odnoklassniki social media platform where he posted his personal photos / depo.ua
"Vitaliy Andriyovych Hlukhoveria was appointed as head of the National Police's main department in Dnipropetrovsk region in keeping with a National Police order," Kniazev announced at a briefing in Dnipro in Wednesday, May 10, an UNIAN correspondent reported.
Hlukhoveria replaced Ihor Repeshko, who was dismissed after a notorious brawl involving Donbas war veterans, police officers and so-called titushki, or hired thugs, during Victory Day events in the eastern Ukrainian city of Dnipro on May 9, 2017.
Read alsoPGO launches probe into possible conspiracy between Dnipro police, "titushky"Hlukhoveria is not a newcomer to this position. He had headed Dnipropetrovsk region's police before. He took up that office at the Interior Ministry's main department in Dnipropetrovsk region after Interior Minister Arsen Avakov appointed him in May 2014 following Maidan events. Hlukhoveria worked at this position for a year. In May 2015, he was replaced by Maj. Gen. Repeshko. Hlukhoveria, in turn, was tapped to head the brand new National Police's department that fights human trafficking.
In November 2015, he was appointed head of the Dnipropetrovsk State University of Interior Affairs.
Hlukhoveria worked in Russia during Viktor Yanukovych's presidency. In 2010, he was appointed an adviser at Ukraine's Embassy in Russia, and until 2013, he worked as a representative of Ukraine's Interior Ministry in the Russian Federation.
When incumbent Prosecutor General Yuriy Lutsenko was interior minister in Yulia Tymoshenko's government, Hlukhoveria was appointed first deputy head of the Interior Ministry's main department in Zakarpattia region, Ukraine's west, in October 2008. Prior to that, he was chief of the Uzhgorod city police department.
Hlukhoveria's son, Oleksandr Hlukhoveria, works as a prosecutor in Dnipro.
Hlukhoveria's wife, Kateryna Halaidych, was a subject of a Nashi Groshi journalist probe into an income and assets declaration in January 2016.