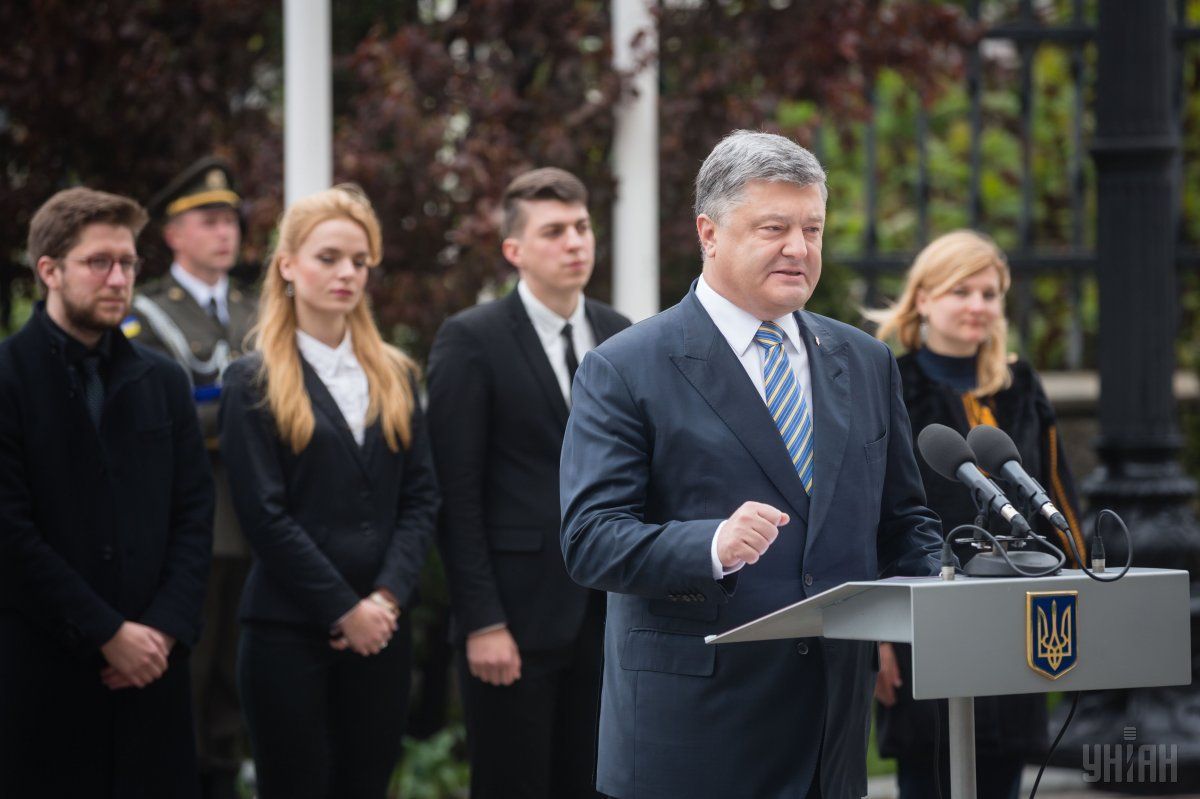 Photo from UNIAN
Congratulating the attendees in front of the Presidential Administration, Poroshenko noted that the given holiday has already become profoundly symbolic for the people of Ukraine, as three years ago they defended their European future, the press service said.
"Today, representatives of our glorious youth from Kyiv, Luhansk, Lviv stand together with me. In 2013, they summoned the European Maidan – Maidan, which demonstrated a sincere desire of the Ukrainian nation to move to Europe, change the country, adopt and sign the association with the European Union, ensure deep and comprehensive free trade area. And the movement of these youngsters has been immediately backed by millions of young Ukrainians," Poroshenko emphasized.
"I am grateful to the activists who attended this event, to thousands and thousands of young men and women for their sincere willingness to change the country, make Ukraine closer to Europe," he added.
The president noted that Europe and EU have become true synonyms of reforms, values, democracy and freedom. Now, we can assert unequivocally: Ukraine has changed radically and abandoned the Soviet and Russian empire forever. That is why European civilizational choice has become a sincere and conscious choice of the entire Ukrainian nation, he said.
"Our move to Europe is backed by an absolute majority of Ukrainians and this adds force to implement reforms. Europe and EU are recalled by every Ukrainian these days. And this holiday is truly nationwide," Poroshenko noted.
However, the President stressed that Ukrainians have to pay a high price for their choice. Poroshenko regretfully recalled yesterday's cruel shelling of civilians in Avdiyivka by pro-Russian militants. "Unfortunately, this is the price Ukrainians pay for Russian aggression, for our desire to be free," he emphasized.
Read alsoPoroshenko congratulates Ukrainians on official start of Eurovision 2017 (Video)At the same time, the president is confident that thousands of Eurovision guests who came from all over the EU saw real, fantastic Ukraine, European Ukrainians. Therefore, they will support our pro-European aspirations. "They fell in love with Ukraine. I am sure that our desire to move to Europe and integrate into Europe has got additional allies," he noted.
"In one front of solidarity, Ukrainians defend European values, freedom, democracy and our sovereignty, territorial integrity and independence. Happy Europe Day, dignified European-Ukrainian people. Glory to Europe and glory to Ukraine," Poroshenko congratulated Ukrainians.
Read alsoPoroshenko on EU visa lib: Ukraine completes divorce process with RussiaYoung Ukrainians – participants of the Revolution of Dignity who also took part in the ceremony of hoisting the EU flag emphasized: "Our country defends eastern borders of Europe every day and thanked the international community, all countries friendly to Ukraine for their support and assistance. Europe Day for us, youth, is a day of unity of democratic principles: freedom of speech, justice, rule of law. These are the postulates that called us to the Revolution of Dignity," the participants of the solemn ceremony noted.
The youth thanked the president, government, parliament, diplomatic corps and everyone who made an important historic decision that grants an opportunity for visa-free travel to Europe for Ukrainians come true. They are confident that it has become an adequate response to all skeptics and pessimists.