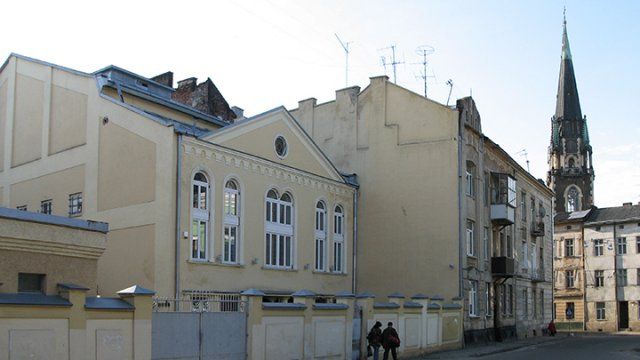 Photo from ZAXID.NET
The incident involving the petrol bomb happened in the early hours of June 30, at 04:00 local time, but it was reported only Monday, July 3, after the press service of Lviv's Town Hall issued a statement, ZAXID.NET said.
The perpetrators may have aimed the petrol bomb at a window of the synagogue on located at 4 Brativ Mikhnovskykh Street but missed it, hitting the building façade between the windows, fell into the yard where it burnt down, Director of the Chesed-Arieh Jewish group Adel Dianova told ZAXID.NET.
Read alsoUkraine police on hunt for criminals who vandalized synagogue in UmanNo one was hurt in the incident.
The anti-Semitic slogans painted on a former building of the community at 12 Sholom Aleichem Street included the words "Down with Jewish Power" and "Jews, Remember July 1," an apparent reference to a pogrom that took place in Lviv June 30 through July 2 in 1941, when 7,000 Jews were killed.
The Lviv Town Hall strictly condemned the acts of vandalism.
"We strictly condemn the acts of vandalism that took place in Lviv. Those guilty should be brought to justice. We appeal to the law enforcement agencies to investigate these acts as quickly as possible. Lviv has always been and will be a tolerant city," Deputy Mayor of Lviv for municipal development Andriy Moskalenko said.