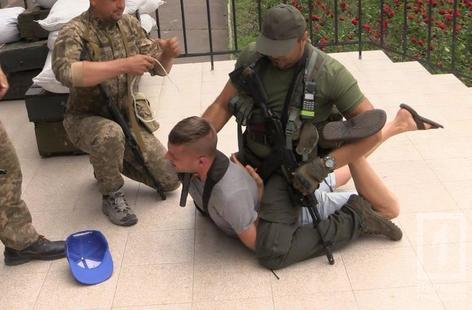 Ukrainian cameraman shot during brutal mock arrest / 1tv.kr.ua
But video filmed by a co-worker showed just how recklessly violent the soldiers were with their firearms before the shooting itself, as reported by 9News.
The video began with cameraman Vyacheslav Volk volunteering as a pretend adversary outside a staircase to a town hall in the city of Kryvy Rih yesterday.
The overzealous soldiers don't hold back their brutality, firing a warning shot before pinning Volk to the ground and pointing a Kalashnikov rifle at the back of his head.
Read alsoItaly suspects Ukraine's soldier of premeditated murder of photojournalist in Donbas – PGOThey then bind his hands with zip-ties, press a handgun hard against his throat and twist his ankle backwards in an uncomfortable position.
He is forcefully grabbed by the hair.
CCTV shows only minutes later the panic that ensues when another gun is fired, hitting Volk in the neck.
Volk was rushed to hospital and is now in a critical condition after the Glock handgun bullet damaged his spinal cord.
The soldier who fired the shot has been charged with illegal handling of a weapon and serious bodily injury by negligence.
The soldier could face three to seven years in prison.