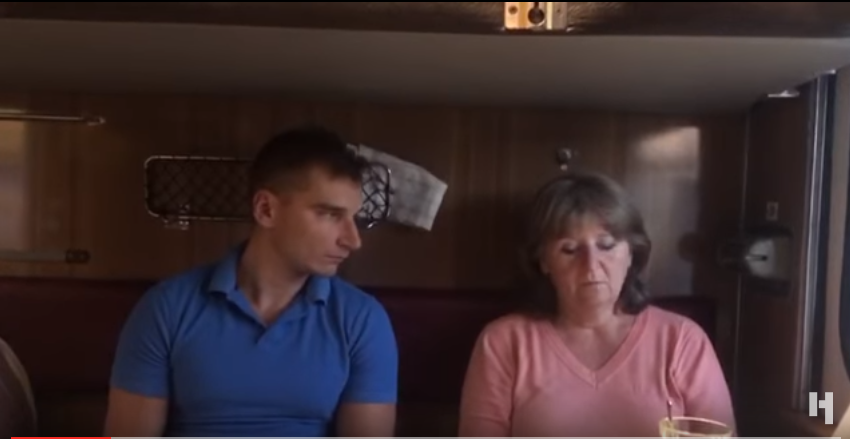 Screenshot
It is reported that the Ukrainian side agreed to allow the Russian woman entry with a Russian passport for internal use, as an exception.
"We did not enter directly from Russia, because the mother of the corporal does not have a foreign travel passport, and we were very afraid that our Russian border guards would not let her out with this internal passport while Ukrainian border guards were aware that Svetlana had no foreign travel documents on her. The Ukrainian side agreed to allow Svetlana entry on an internal Russian passport, as an exception," said Pavel Kanygin.
Read alsoDetainee Ageyev captured in Donbas confirms being Russia's "contracted serviceman"The journalist noted that he cannot yet name the names and positions of people who represent the Ukrainian side. At the same time, he admitted that he could do so after the meeting took place.
"As for the meeting itself, we were promised it would be arranged in the next few days. We do not know anything about the time and place yet, we will be advised later. As is known, Viktor Ageyev is now in a pre-trial detention facility in the town of Starobelsk, but I think that the meeting could also be held someplace else - everything will be decided tomorrow," the journalist said.
Read alsoUkrainian envoy advises Ageyev's mother to ask Putin to pardon UkrainiansAccording to Kanygin, the Ukrainian side promised Svetlana Ageyeva to arrange a meeting with her son, including a private one.
Kanygin also added that since the time Svetlana Ageyeva addressed President of Ukraine Petro Poroshenko, none of the Russian authorities contacted her. Only before she left for Ukraine, she received a phone call from the FSB. An operative on the phone told her to "be more careful."
"It happened right after the tickets were bought. Apparently, the FSB wanted her to know that their Office is aware," Pavel Kanygin said.
As UNIAN reported earlier, the Russian contracted soldier Viktor Ageyev had been captured by Ukrainian soldiers after a brief shoot-out with the enemy recon group on June 24 near Zhelobok in Ukraine's Luhansk region.
Read alsoSabotage group commander killed in Donbas got sniper rifle from RussiaAgeyev's mother, his friends and former fellow soldiers have confirmed to reporters that after a draft service, he remained in the army under a contract that he signed in March 2017.  
On June 28, the Ministry of Defense of Russia said that Russian citizen Ageyev captured in Luhansk region had been "dismissed" from military service last year.
Read alsoMoscow disowns contracted serviceman AgeyevAt the same time, the Kremlin dodged an answer to the question on the possibility of exchanging Russians who had been captured in Ukraine for Ukrainians held in captivity in the Russian Federation.