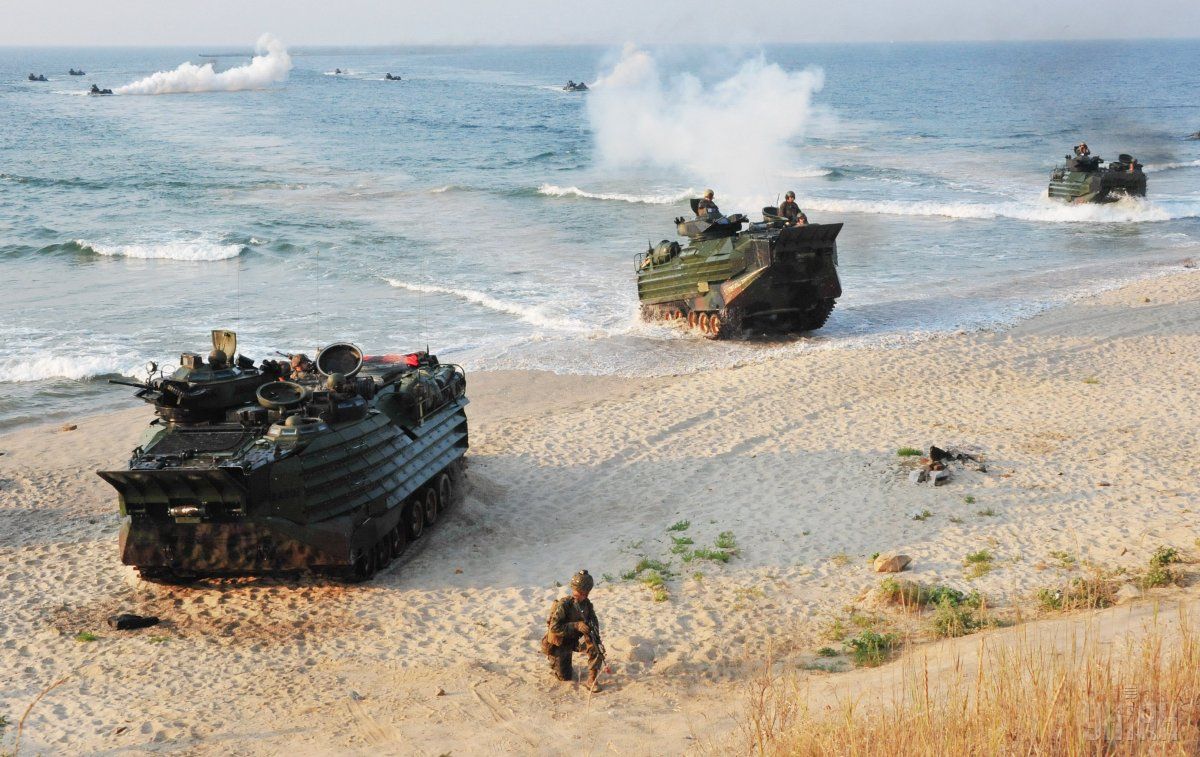 Photo from UNIAN
This is the first time that special operations forces have operated at Sea Breeze, said U.S. Navy Capt. Michael Villegas, the exercise's director. "[Their] capabilities are extremely valued by the Ukrainians and extremely valuable to the U.S."
Naval Special Warfare Command operators were completely integrated into the various air, land and sea missions that required their unique warfighting skill set. Exercise Sea Breeze is a perfect fit for special operations forces to train and exercise their capabilities, the exercise's lead special operations forces planner said. "With the support of the [Air Force's] 352nd Special Operations Wing, we saw a prime opportunity to support [special operations] mission-essential training with our Ukrainian allies," he said.
Read alsoSea Breeze-2017 significant step toward Ukraine's transition to NATO standards - Defense MinistryHe added that naval special warfare units bring a host of unique capabilities into the exercise scenario, such as rigid-hull inflatable boats; visit, board, search and seizure expertise; and the strongest direct action capabilities available. However, Villegas noted, capability is only one piece of the puzzle when training alongside a partner nation with shared objectives to assure, deter, and defend in an increasingly complex environment.
Achieving interoperability with partner nations and interservice partners is a common objective at exercises like Sea Breeze. But here, the U.S. special operations forces capitalized on it. "Interoperability is our ability to conduct combined planning, problem solving, and mission execution efficiently to achieve a mutually-defined end state," Villegas said.
"We have combined with our Ukrainian colleagues to integrate their experience and capabilities within our key positions," he said. "Starting in the command team and further within our operations, communications, logistics, and intelligence departments, we were fully partnered."
Down at the platoon level, operators fast-roped from hovering U.S. Air Force CV-22 Osprey aircraft assigned to U.S. Special Operations Command Europe, conducted personnel recovery training and boarded vessels at sea.
Read alsoUkraine to get U.S.-made patrol boats following Sea Breeze 2017As with any exercise of this size and scope, there were challenges to overcome to make the exercise a success while identifying tactical and technical gaps in partner capabilities. "The first major obstacle we had, but were prepared for, was the language barrier," the platoon commander said. "Another was that our mission sets differed slightly from our counterparts'."
To remedy this, he said, he found ways to incorporate the skill sets of each unit in ways to accomplish the mission while building relationships to forge a stronger partnership.
"[Special operations] participation at Sea Breeze is so important for Ukraine and the U.S. Navy and all the other units participating," Villegas said. "Our hosts have been incredibly friendly, committed and dedicated. Their hard work has ensured Sea Breeze 17 was a success, and we are truly very thankful for that."