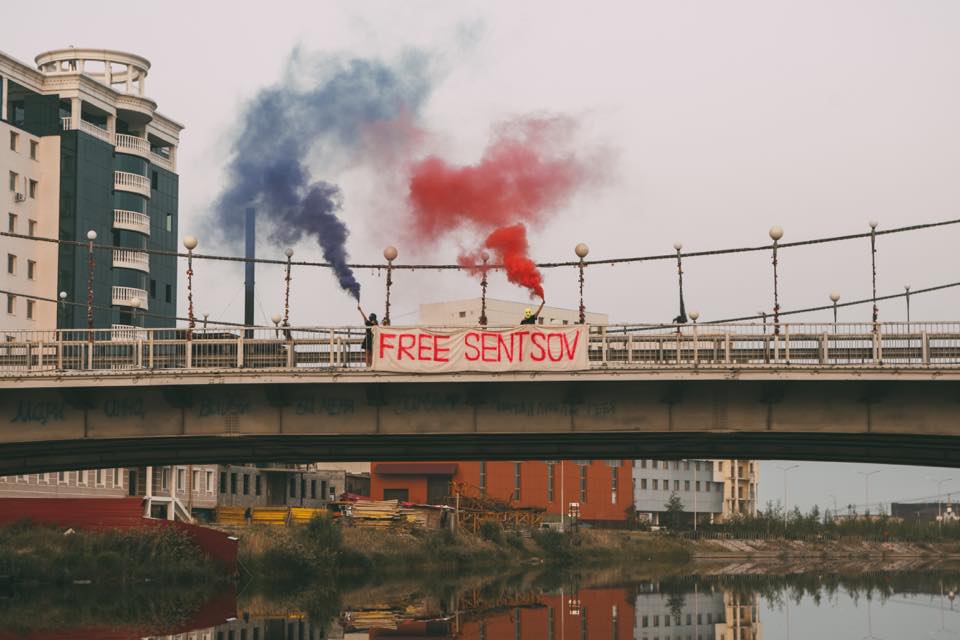 Photo from facebook.com/maria.lirain
"Yakutsk, the Republic of Sakha, a bridge across Lake Saysary. A twenty minutes' ride from penal colony No. 1 where Oleh Sentsov is serving his term. Seven and a half kilometers away," Pussy Riot member Mariya Alekhina wrote on Facebook on Sunday, August 6.
Pussy Riot's linen banner had the words 'Free Sentsov' pink in color. It was fixed on the bridge for being visible to passers-by and residents of nearby houses.
Sentsov was detained by the Russian FSB Security Service in Russian-occupied Crimea in 2014 together with activist Oleksandr Kolchenko. They were brought to Russia and tried in a trumped-up case on charges of organizing acts of terror and arson on the peninsula.
Read alsoLetter from Ukrainian film-maker Sentsov smuggled out of Russian prison – mediaOn August 25, 2015, Sentsov and Kolchenko were sentenced to 20 years' and 10 years' imprisonment prison, respectively.
On October 21, 2016, Russia refused to extradite the two Ukrainians to Ukraine, claiming they had automatically acquired Russian citizenship after the annexation of Crimea.