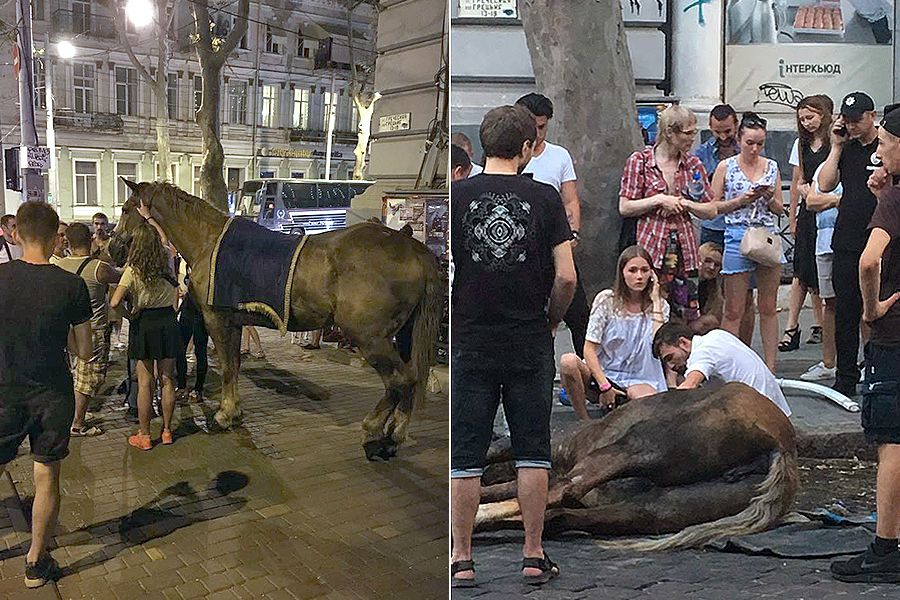 Serge Kravetz
It turned out that the horse only fainted, but witnesses said it was a clear case of animal abuse: the owners forced the animal to work the whole day under the searching sun with scorching temperatures of 37 degrees Celsius, according to the Kyiv Post.
After it became clear what happened, the crowd hustled the carriage driver away and started reviving the horse, watering it and cooling it. Serge Kravetz, the local witness, says men in the crowd tried to help the horse to get up, but failed and then called the police.
Police patrol that arrived in about 20 minutes and first refused to register signs of crime.
"They didn't see the act of crime in this animal abuse. But people persuaded them to change their mind," Kravetz said.
The police also cordoned off the road to let bystanders and a veterinarian revive the animal.  A couple of hours later the horse stood up.
The carriage and the horse belonged to the local Ayvengo Horse Club, an entertainment club that offers visitors horse rides.
Read alsoFrom Aug 4, animal abusers in Ukraine face jailThe owner of the horse, Olga Oleynik, told the Kyiv Post on Aug. 6 that the horse feels better, denying that the incident was due to the animal's maltreatment.
As UNIAN reported earlier, on August 1 the Ukrainian president, Petro Poroshenko, signed into a law the bill introducing harsher punishment for animal abuse.