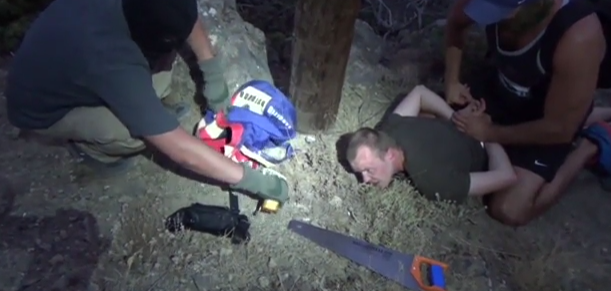 Screenshot ria.ru
"It is established that a citizen of Ukraine Limeshko Hennadiy Hennadiovych, a native of Kharkiv region, who had previously served in the so-called ATO zone as a senior deep reconnaissance officer in one of the military units of the Armed Forces of Ukraine, arrived in Crimea on August 9, 2017," the FSB said in a report.
It is alleged that "in accordance with the SBU's assignment, he had to bring the Sudak-Novy Svet power line into an unusable condition in order to stop (limit) the supply of electricity to consumers, to destroy (damage) forest tracts in the Sudak-Rybache-Alushta area by arson, create conditions for the collapse of rocks in order to block the Sudak-Novy Svet motorway, as well as set fire to one of the utility facilities near the village of Rybache."
Read alsoRussian court sentences Ukrainian to 8 years on terror charges – mediaIt is reported that on August 12, 2017, Limeshko was detained by the security forces while trying to damage the power line in the area of the Sudak-Novy Svet motorway.
"The officers seized two TP-200 TNT blocks with a ZTP-50 incendiary tube, a school mechanism for activating the explosive device, an RGD-5 grenade with a screwed unified modernized fuse, a container with a combustible mixture, a hand saw (for damaging wooden poles of power lines) and a digital camera (for documenting sabotage and subsequent reporting to the curators in the Security Service of Ukraine)," the report says.
"Investigative actions and operational measures are underway to identify possible accomplices of the Ukrainian saboteur," the FSB added.
The Security Service of Ukraine is now verifying this information. Details have not yet been reported.