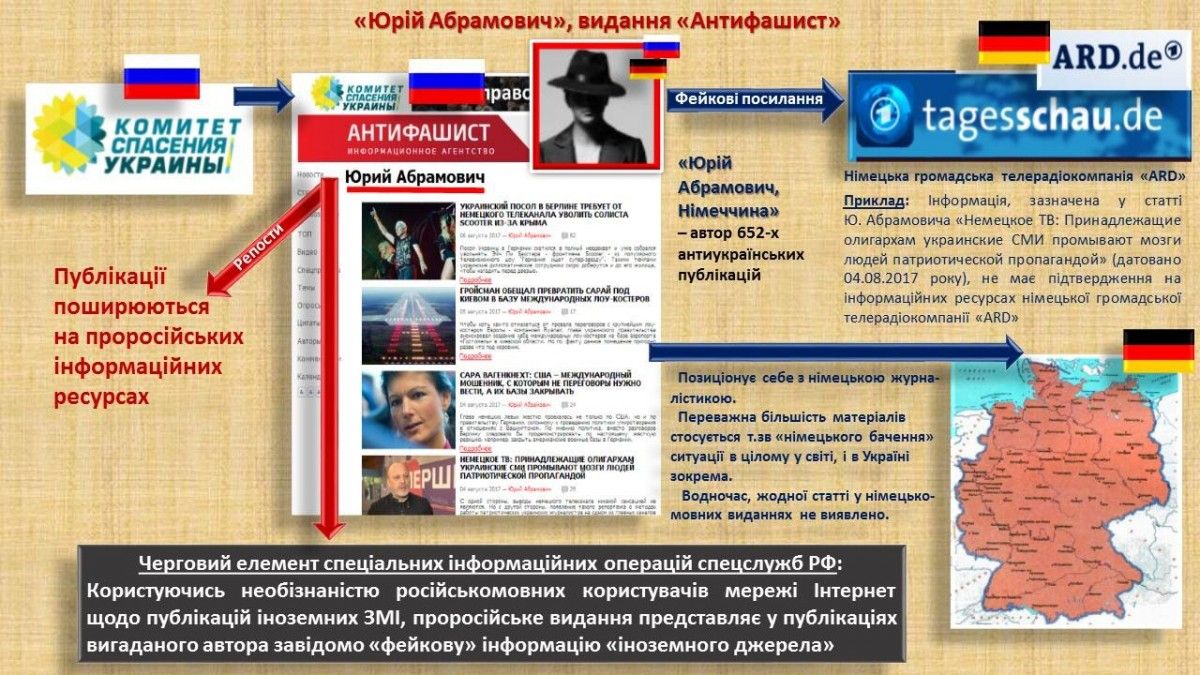 Photo from the SBU
"The Security Service of Ukraine has exposed another special information operation of the Russian special services aimed at discrediting Ukrainian journalism and security forces (particularly the SBU), as well as the policy of the state leadership in ensuring freedom of speech," the SBU's press service said on Facebook.
As noted, the Russian special services purposefully publish articles of fictional authors with fake information allegedly from a foreign source, which later spread to pro-Russian information resources.
Read alsoSBU: Russian secret services try to covertly use ATO soldiers to discredit Ukraine"Operatives of the special services drew attention to a 'journalist' Yurij Abramovich, whose stories are constantly published on the Antifashist pro-Russian information resource, and his last 'masterpiece' titled 'German TV: The Ukrainian media belonging to the oligarchs brainwash people with patriotic propaganda'. The article refers to the alleged reportage of the German public broadcaster ARD on the methods of work of Ukrainian journalists," the report says.
In his materials, the "journalist" highlights the "German vision" of the situation in Ukraine and the world. At the same time, his materials are not available in German-language publications.
"However, he is the author of 652 anti-Ukrainian publications on the Antifashist resource. Information about the identity of Yurij Abramovich is not identified in open sources. It is possible that he belongs to the category of 'fake foreign correspondents' used by pro-Kremlin publications to cover the international assessment of the events in Ukraine and abroad," the report reads.