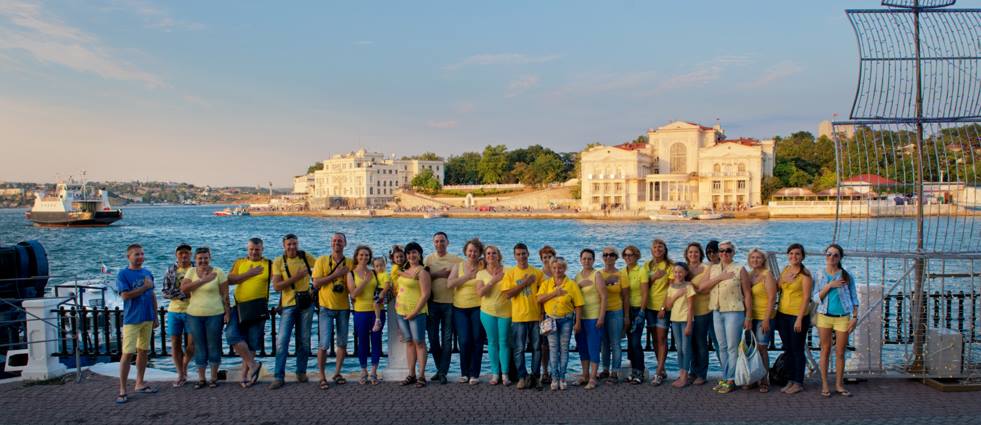 www.facebook.com/tatyana.moskalenko.1
"Congratulations to our Ukraine on Flag Day and Independence Day!!! Our hearts are with you," Tatyana Moskalenko wrote on Facebook, posting the relevant photo.
Another netizen, Lara Mos, said that the participants of the flash mob called their friends and acquaintances, offering to make a photo in the center of Sevastopol to show that there are real patriots of Ukraine in Crimea and that "it is impossible for mainland Ukrainians to abandon Crimea." According to her, many people made friends on the spot.
Read alsoUkraine celebrating National Flag Day"Many people wanted to come but could not do that for a number of personal reasons; there were also those who were frankly afraid, though they take it to heart, there were others who later said that they did not know about the flash mob," she added.
Read alsoUkrainian broadcasting in Crimea: do Crimeans need it and how Russia will respondAccording to the participant of the act, none of them wanted their faces to be blurred on the photo: "We discussed that if someone is afraid of persecution by authorities, their face could be blurred out, but no one expressed such will. Most people came to the venue already sporting the appropriate outfit, some of them changed on the spot. Such an accumulation of blue-yellow colors sparked ambiguous reactions from passers-by ranging from approving smiles to hate and panic."