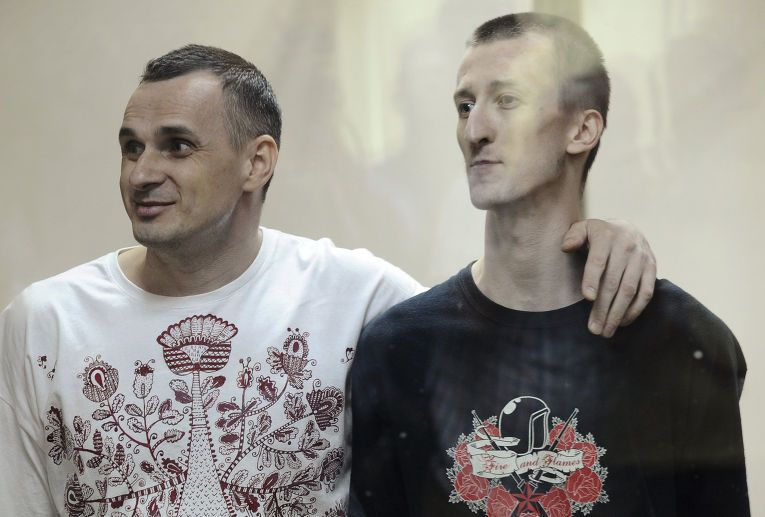 REUTERS
The Kyiv-based Solidarity Committee called on supporters to gather in front of the Russian Embassy in the Ukrainian capital at 1 p.m. to show support for Sentsov and his co-defendant, Oleksandr Kolchenko, RFE/RL reported.
Activists planned another rally in the southwestern city of Odesa starting at 4 p.m. to call for the release of inmates who are "victims of the Kremlin's anti-Ukrainian campaign and are in Russia's prisons on fabricated charges."
"Come, your participation is important because at least 46 citizens of Ukraine remain hostages of the Russians!" the organizers said on Facebook.
A Russian court convicted Sentsov and Kolchenko on August 25, 2015, of conspiring to commit terrorism in the Crimea region, which Russia seized in March 2014 after sending in troops and staging a referendum denounced by 100 countries as illegitimate.
Read alsoPussy Riot activists unfold Free Sentsov banner 7.5 km from his penal colony in RussiaThey were sentenced to 20 years and 10 years in prison, respectively.
Both have consistently denied the accusations, with Sentsov, who has opposed Russia's takeover of Crimea, saying that a "trial by occupiers cannot be fair by definition."
The trial of Sentsov and Kolchenko was described by international rights groups as politically motivated and politicians, officials, film directors, and other artists have called for their release.
PEN America announced in March that it will honor Sentsov with its 2017 PEN/Barbey Freedom to Write Award, saying the charges against him "have been condemned by human rights groups as fabrications by a Russian government intent on silencing dissent."
It said Sentsov is widely regarded for work that includes two short films – A Perfect Day For Bananafish and The Horn Of A Bull – and a full-length feature film, Gamer, that debuted to acclaim at the 2012 International Film Festival in Rotterdam.
His writings include scripts, plays, and essays, and he has continued to produce prolifically from prison, a statement said.
Rights activists say Russia has jailed a number of Ukrainians on trumped-up, politically motivated charges since Moscow seized control of Crimea in 2014.
In March, the European Parliament called on Russia to free more than 30 Ukrainian citizens who were in prison or other conditions of restricted freedom in Russia, Crimea, and parts of eastern Ukraine that are controlled by Russia-backed separatists.