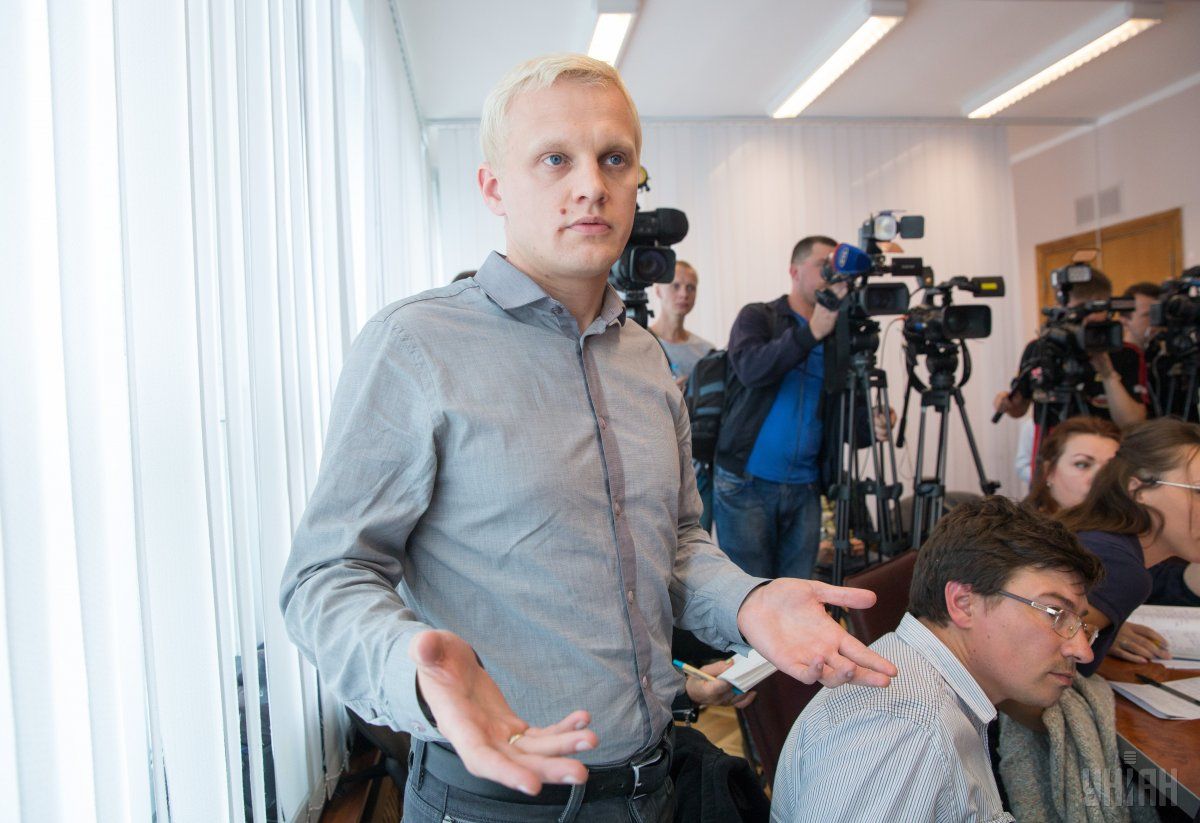 Photo from UNIAN
Shabunin has been under relentless pressure since March, months after an initiative he championed -- mandatory asset disclosures by officials -- came into force, angering everyone from prosecutors and politicians to tax authorities and even the security services, Bloomberg reports.
The revelations of million-dollar bank accounts, mansions and luxury goods sparked outcry from a public that already considered rampant graft more menacing than Russia. Ukraine's neighbor annexed Crimea from it in 2014 and continues to support a simmering insurrection in the industrial east that's claimed 10,000 lives.
"They're hunting us because we closely oversee the fight against graft and pressure the government," said Shabunin, who's served on the public council that monitors the anti-corruption bureau the government had to create under its $17.5 billion bailout from the International Monetary Fund.
Read alsoCourt released on personal recognizance Ukraine's anti-graft activist charged with assaultShabunin spoke in an interview in Kyiv after a damaging video surfaced, showing him finally losing his temper and punching a self-proclaimed independent journalist Vsevolod Filimonov who'd been stalking him with a camera and trolling him online for months.
The video is now evidence in an assault probe that carries a maximum penalty of three years in prison.
Read alsoUkrainian anticorruption activists dare 'sissy pants' officials to declare assets - RFE/RL"I hit a person who was haunting my team," Shabunin told reporters after his Aug. 16 hearing. "I am prepared to bear responsibility for that."
Shabunin's supporters, including Semen Semenchenko, a lawmaker who's fought against Kremlin-backed militias in the east, said it's absurd that a crusader for clean government is facing jail time for striking a known extortionist. Before the uprising, Filimonov was fired from an election-monitoring watchdog in his native Luhansk, one of two regions now partly held by rebels, after he was recorded soliciting a $3,000 bribe from a local official.
Filimonov, who managed to shoot Shabunin in the face with pepper spray after getting up off the floor, denies corruption back in Luhansk. While he doesn't want Shabunin to go to prison, he said bloggers and journalists should be free to work and should receive compensation if they're attacked and injured.
Read alsoUkrainian anti-graft body may struggle to probe MPs' wealth - ReutersThe black ops against Shabunin began to intensify after the EU visa deal. The Anti-Corruption Action Center accuses the State Security Service, or SBU, of tapping its employees' phones and sharing their movements with people who're either paid or coerced to harass them. It also says an SBU officer organized a protest outside his house on a Sunday morning in late April with placards making the same claims as Wolfe's anonymous scriptwriter.
An SBU spokeswoman, Olena Hytlyanska, denied both allegations, saying by email that the service "doesn't have the desire or legal grounds to get distracted by some ambitious politicians or civil activists."
The U.S. Embassy in Kyiv has come to Shabunin's defense, saying via Twitter that the Anti-Corruption Action Center has accounted for every dollar of aid and that it's "proud" to be the watchdog's partner. But that did nothing to dissuade tax authorities from continuing an investigation into the group's finances.
Read alsoUkrainians shocked as politicians declare vast wealth - Reuters"We're the main obstacle to rolling back anti-graft reforms," Shabunin said in the interview. "So authorities are seeking to discredit us, to undermine our support among Ukrainians and the international community."