vmr.gov.ua
The new square was officially opened by Ukrainian President Petro Poroshenko, Prime Minister Volodymyr Groysman and Chairman of the Verkhovna Rada Andriy Parubiy who arrived at the City Day celebration in Vinnytsia on Saturday.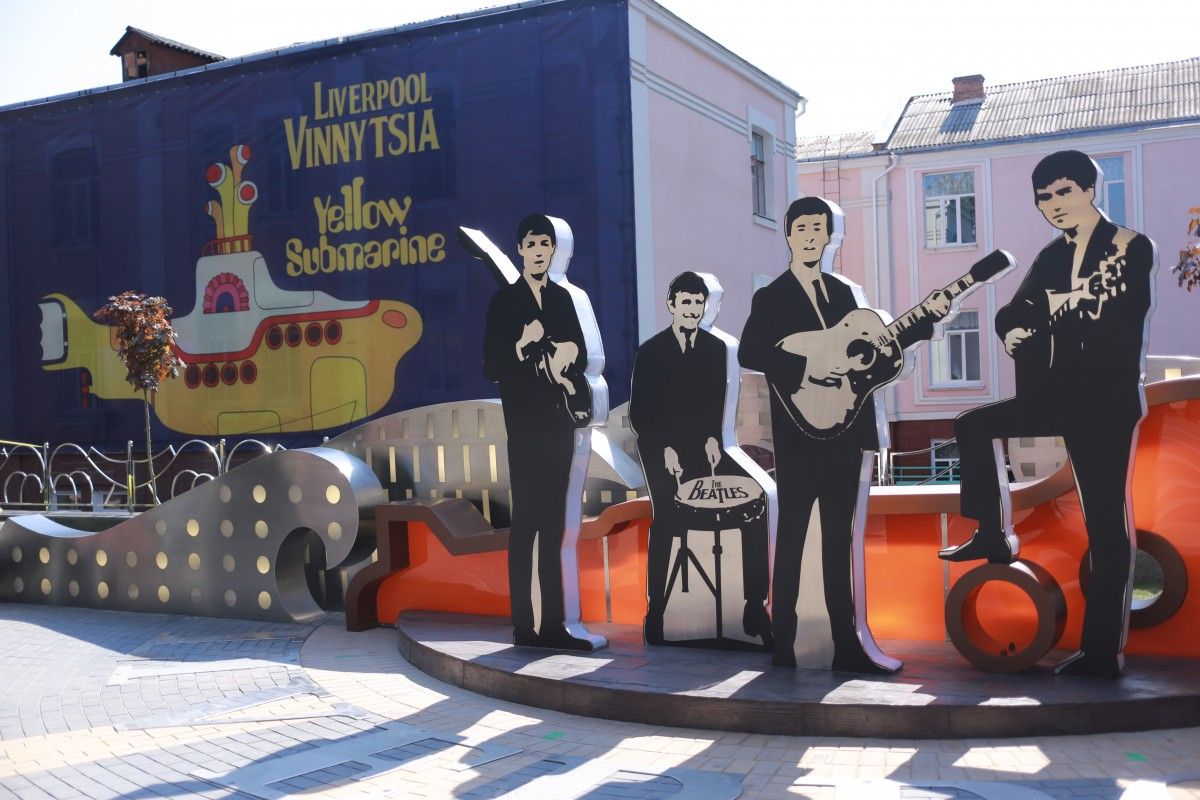 The Fab Four meet everyone with their famous yellow submarine / Photo from Vinnytsia City Council
According to Vinnytsia Mayor Serhiy Morgunov, who presented the unique project to guests and residents of Vinnytsia, now the figures of John Lennon, Paul McCartney, George Harrison and Ringo Starr will meet everyone in the city center on the background of their famous yellow submarine. Their songs will be periodically broadcast from futuristic flashlights with built-in speakers.
Two more special photo zones were also equipped in addition to the Beatles silhouettes. One of them reproduces the most popular and most recognizable photo of the band – the cover of their music album "Abbey Road" in 1969 when the four band members walking across a zebra crossing outside Abbey Road Studios. For maximum identity with this photo, the organizers of the City Day even found and placed a white Volkswagen Beetle and an English taxicab near the photo zone. In addition, a constable welcomes guests near the Liverpool Square during the day. The second additional photo zone is also the same cover in a 3D image.
Read alsoUkraine celebrating 26th anniversary of independence All fans can enjoy songs of their favorite musicians all day long performed by the cover band of the Beatles Lviv fan club "THE BEATLEVS," as well as a Vinnytsia citizen, a finalist of the popular "X-factor" vocal show, Bohdan Sovyk, and the band "OWL."
The new square was opened by Ukrainian President Poroshenko and PM Groysman / Vinnytsia City Council
A special guest – Ambassador of the Beatles Museum in Liverpool and head of the Cherkasy Beatles Club Serhiy Radchenko arrived in Vinnytsia on Saturday. When the museum celebrated its 25th anniversary on May 1, 2015, it was decided to arrange a contest to elect 25 ambassadors of the museum all over the world. More than 800 applicants from 52 countries took part in the contest. Serhiy became one of the winners.
The duties of the ambassador of the museum are simple – to promote the heritage of the Beatles. Therefore, all Vinnytsia fans of the legendary band have a unique chance to learn more about the Fab Four.