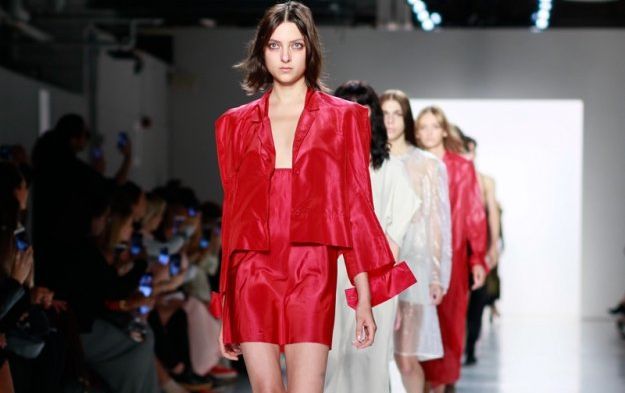 Bevza
Bevza rose to local fame with her signature jackets and coats, sharply tailored with exaggerated shoulders and nipped waists. After showing in Ukraine for over a decade, Bevza began to present in Tbilisi a year ago. This past week, she chose New York. The journey is far – over 4,500 miles – but Bevza has long wanted to garner an international audience, according to Vogue.
The label is typically full of homegrown pride, but it was never more evident than with the folkish vyshyvankas that put Ukraine on the map over a year ago. The same goes for the Bevza debut collection in New York. This season, Bevza focused on showing the rough political situation in Ukraine in a pared-back way, titling the collection "Realitics" – a mash-up of reality and politics.
Read alsoUnusual combination: Ukrainian designer mixes Ukraine's traditional vyshyvanka dresses with hijabsGiven her pull in the motherland, Bevza was able to put together a cast of well-known Ukrainian models – not a bad idea to appeal to the Kyiv-based press. But how do the clothes fare in an international spotlight? Delicate and harsh elements come into play, such as the standout bulletproof vests that were modeled off the vests used by the Ukrainian army. Bevza considers her vests far more "wearable," which is true: They are a far cry from hefty Kevlar and, in a sheeny sateen, were cropped at the waist for a silhouette-cinching effect. As for the delicate aspect? Bevza took the plastic trend – seen on Raf Simons's debut Calvin Klein collection for Fall 2017 – one step further and created a Bubble Wrap coat. "The country is in struggle, so it is fragile," says Bevza. "We did Bubble Wrap coats because, when you have something fragile, you put it in Bubble Wrap." Helmut Lang seemed to be on the brain here, too: The Bubble Wrap material appeared in a shorter, jacket form in the Spring 2003 menswear collection.
So what's the future of Bevza, at least abroad? The collection was certainly well-tailored. But Bevza is in a tricky situation that many designers from smaller, emerging countries find themselves in: She has outgrown Eastern Europe in regards to press, but needs that one hit item to grasp the attention of the Western European and American audiences. (Ukraine's Vita Kin has her vyshyvankas, Georgia's Situationist has coolly cut leather trenches.) Is the hit a Bubble Wrap coat? That's up for debate – it's chic but too impractical to be a red-hot seller. (Though, one Ukrainian buyer backstage noted that she'd buy Bevza's coat rather than Calvin Klein's plastic version.) Bevza's strongest promise to appeal abroad was a short, nipped-waist red jacket and a '90s-era miniskirt with an exposed tag. Now, let's see if the West will bite.
Bevza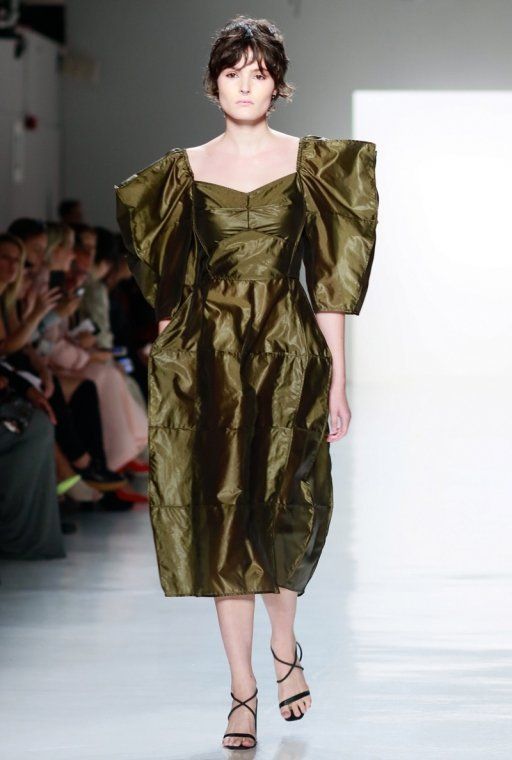 Bevza