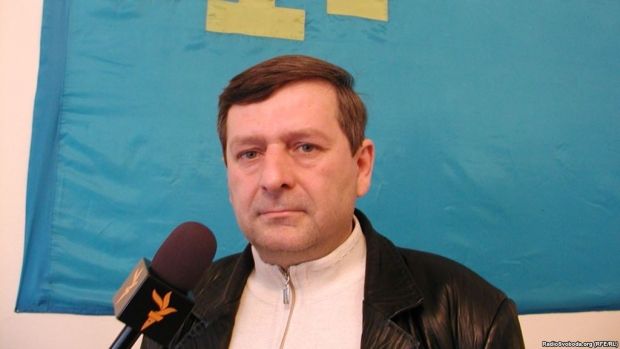 Photo from Radio Liberty
Russian-imposed court officials in Crimea's capital, Simferopol, convicted and sentenced Chiygoz on September 11 on charges of organizing an illegal demonstration in February 2014 – a time when Russian military forces were seizing the Ukrainian territory and weeks before Russia's illegal annexation of the region, RFE/RL wrote.
Refat Chubarov, chairman of the Crimean Tatars' self-governing body, the Mejlis, wrote on Facebook that the rally at 5:30 p.m. local time (14:30 GMT/UTC) was expected to bring together representatives of civil rights organizations, human rights activists, lawmakers, and natives of Crimea who fled the peninsula after it was occupied by Russian forces.
Chubarov called on all participants to bring posters expressing support for Chiygoz and other Ukrainians who have been jailed in Russia and Crimea on politically motivated charges.
Read alsoEU urges immediate release of Chyigoz, all illegally detained UkrainiansChubarov has resided in Kyiv since 2014, when Russian-imposed authorities in Crimea banned him from entering the occupied region.
Chiygoz is a deputy chairman of the Mejlis, which has been banned as an "extremist" organization by court officials in Crimea and by Russia's Supreme Court.
The Parliamentary Assembly of the Council of Europe (PACE), the Organization for Security and Cooperation in Europe (OSCE), Ukraine's government, and international rights organizations have condemned Chiygoz's imprisonment and called on Russia to release him.
Simferopol court officials were expected on September 13 to resume the trial of another Mejlis deputy chairman, Ilmi Umerov.
Umerov was charged with separatism in May 2016 after publicly opposing Russia's annexation of Crimea. He denies the charges, saying he has the right to express his opinions.
Moscow has been criticized by international rights groups and Western governments for its treatment of the region's indigenous Turkic-speaking Crimean Tatar minority.
The majority of Crimean Tatars oppose Russia's takeover of their historic homeland.