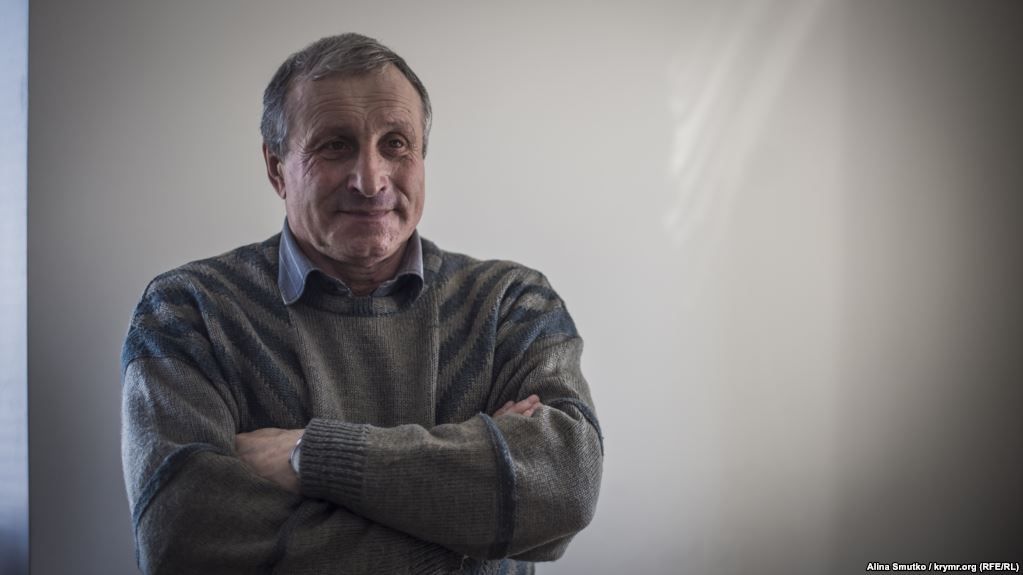 Photo from radiosvoboda.org
"I am glad that Semena has been released from house arrest, but the fact that he was convicted and banned from engaging in any public activity will have a chilling effect on journalists and free speech," Desir said in a statement posted on his organization's official website.
"All charges against Semena should be dropped as they violate OSCE principles on freedom of expression and freedom of the media. Semena should also be able to travel freely," he added.
Ukraine's Ministry of Foreign Affairs in turn called on the international community not to ignore Ukrainian journalist Semena's conviction by the Russian Federation's occupation regime in Crimea.
"The Ministry of Foreign Affairs of Ukraine expresses its strong protest in connection with the shameful offensive by the Kremlin's occupation regime against the basic human freedoms and the rights of the citizen of Ukraine, journalist Mykola Semena," the ministry said in a statement.
Read alsoRFE/RL Crimea journalists win Burke AwardA court in Russia-occupied Crimea on September 22 found RFE/RL contributor Semena guilty on a charge of separatism and handed him a 2.5-year suspended sentence in a case criticized by the West as politically motivated.
RFE/RL's Ukrainian Service said the 66-year-old Semena was also barred from "public activities" – apparently including journalism – for three years, RFE/RL reported on September 22.
RFE/RL President Thomas Kent condemned the verdict and sentence, describing them as "part of an orchestrated effort by Russian authorities in Crimea to silence independent voices."
The European Union called the verdict "a clear violation of the freedom of expression and of the media."
EU foreign policy chief Federica Mogherini's spokeswoman Maja Kocijancic said in a statement on September 22 that the verdict "represents another example of the deterioration of the human rights situation in the Crimean Peninsula after its illegal annexation by Russia."
The statement said that the EU remains "unwavering in its support for the territorial integrity and sovereignty of Ukraine" and called for the charges against Semena to be immediately dropped.
Semena's lawyer Emil Kurbedinov called his client's sentence "a lesser evil" referring to its being suspended.
"We will appeal the verdict and sentence at Crimea's Supreme Court and other higher courts but we will do that to officially exhaust all the appeals here to be eligible to refer the case to the European Court of Human Rights. We do not believe that we will win the appeals here because the way the trial proceeded clearly showed that the case is politically motivated," Kurbedinov said.
Semena told RFE/RL after the sentence was pronounced that the trial against him was "biased."
"On the one hand I feel a relief as the sentence is suspended, on the other hand I am disappointed with Russian justice, because all the arguments and statements by the defense and experts, whom we invited from Moscow and Kazan had not been taken into account by the court," Semena said.
Talking to Current Time TV, the Russian-language network run by RFE/RL in cooperation with VOA, Semena said the ruling is "a sentence against journalism in Russia."
"This verdict is not directed only against me as a Ukrainian journalist. It is directed against all Russian journalism, which in this case should be afraid of Article 280.1 [on violating Russia's territorial integrity]," Semena commented on his verdict.
"The Russian Constitution allows citizens to express their opinions and discuss any issues, ... and therefore Article 280.1 of the Russian Criminal Code, on which my case was based, contradicts Russia's Constitution." Semena said.
Russia added Article 280.1 to its Criminal Code right after the annexation of Crimea in 2014 making it a criminal offense in Crimea to question Russia's territorial integrity.