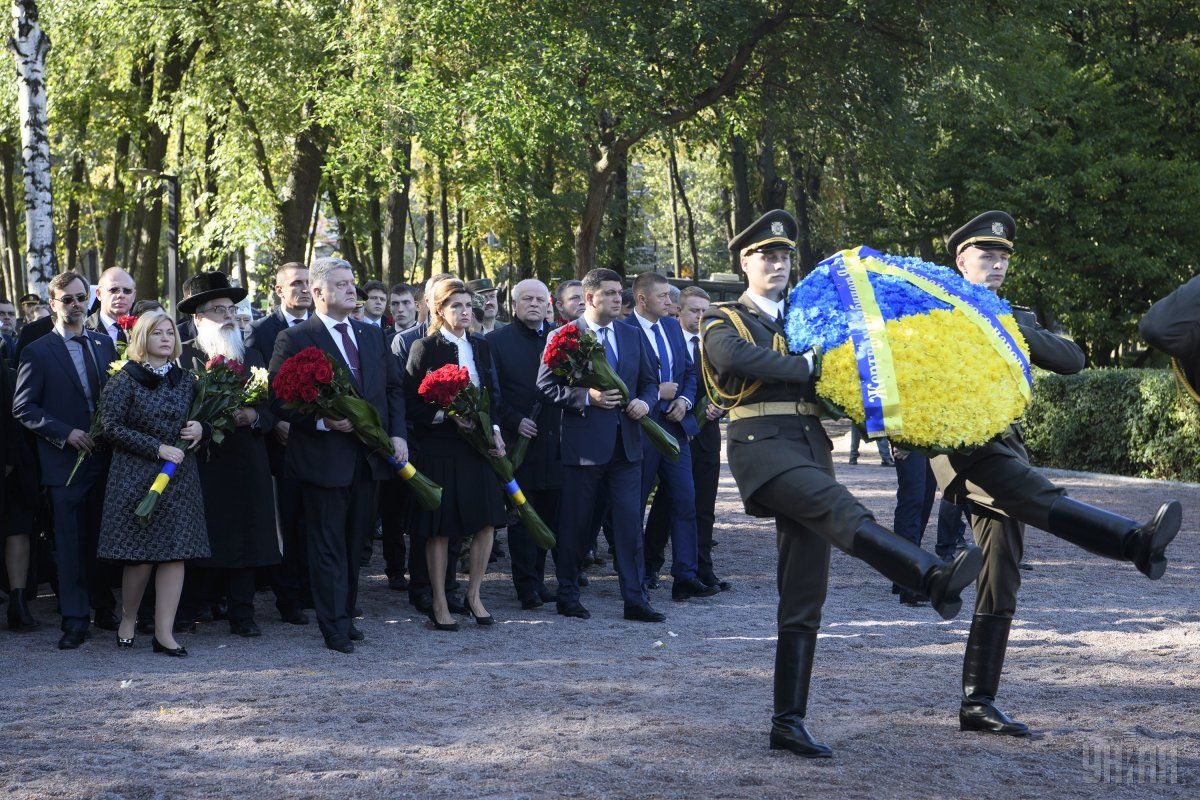 Photo from UNIAN
The president and his wife laid flowers to the memorial plate and commemorated the deceased.
They also put a wreath with a ribbon painted in the national colors to the monument to the citizens and war prisoners executed by Nazis in the Babyn Yar.
The ceremony was also attended by Prime Minister Volodymyr Groysman, members of Government, First Deputy Chair of the Verkhovna Rada of Ukraine Iryna Gerashchenko, people's deputies of Ukraine, members of the Ukrainian Council of Churches and Religious Organizations, and public figures.
Read alsoLawyer for Crimean Tatar leader compares Russia with Nazi Germany – mediaThe participants honored with a moment of silence the memory of the victims of Nazi atrocities.
Addressing the Ukrainian nation, Poroshenko said:
"Dear compatriots!
Today, as every year on this day, we honor the memory of the Babyn Yar tragedy – the mass killing of civilians by Nazi occupiers in the city of Kyiv.
We remember in our prayers the innocent victims, whose names – known and unknown – are forever etched on the bloody pages of history of World War II and the Holocaust.
The Babyn Yar ravine became a place of eternal peace for more than 100,000 representatives of different nationalities – Jews, Ukrainians, Gypsies, and many others -- and consequently it became a place of our common memory, an impulse to preserve peace and interethnic harmony worldwide.
Today, all of Ukraine – from the border that connects us with a democratic Europe to the border that separates us from the aggressor state – is a territory of tolerance, respect for the life and dignity of every person, as well as free development of representatives of various ethnic groups and religions.
Having learned the bitter lessons of the past, Ukraine and the entire civilized world are united in their desire to protect humanity from the arbitrariness of totalitarian regimes and to guarantee the right of peoples to a safe life in dignity.
Eternal memory to those innocently killed in Babyn Yar, all victims of Nazism.
We remember, and we will prevent. Never again!
Petro POROSHENKO."
UNIAN memo. On September 29-30, 1941, the Nazis executed nearly 34,000 Jews at the Babyn Yar in Kyiv, occupied by the Third Reich.
In 1946, the Nuremberg trial provided estimates of about 100,000 people killed at the Babyn Yar. In 1941-1943, 621 members of the OUN [Organization of Ukrainian Nationalists] were shot at the Babyn Yar, including Ukrainian poetess Olena Teliha with her husband.