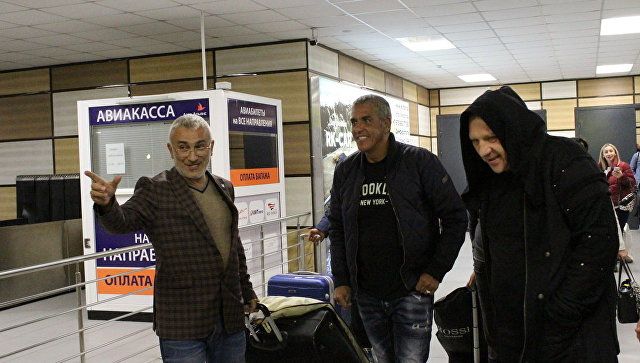 RIA
Naceri flew to the occupied peninsula from Moscow, along with his friend, French singer Mourad Bouraoui, despite international sanctions imposed on Russia, according to RIA Novosti.
A so-called "Peace Forum" is held by a World Charitable Alliance "Peacemaker".
Read alsoRussia plans to build 50-km fence on Crimea's "border" with mainland Ukraine"We, Samy and I, wanted to come to you, to Crimea. We are not afraid of sanctions, we love your country, Russia, that's why we are here today," Mourad Bouraoui told reporters at the Simferopol Airport.
It should be noted that Ukraine deems a punishable offense visiting Crimea beyond the established border checkpoints, that is without proper control procedures carried out by Ukrainian border guards.
As UNIAN reported earlier, some fifty deputies, businessmen and public figures from Austria and Germany will allegedly arrive in the Russian-occupied Crimea to take part in the International Economic Forum to be held in Yalta in the spring of 2018, according to the Russian newspaper Izvestia.
In the spring of 2016, European politicians, represented by the largest delegation from Italy, arrived in the occupied Crimea. Ukraine also sent a protest note to the German Foreign Ministry due to an uncoordinated visit to the Russian-occupied Crimea by chairman of the youth wing of Alternative for Germany (AfD) party Markus Frohnmaier and MEP from this party Marcus Pretzell.