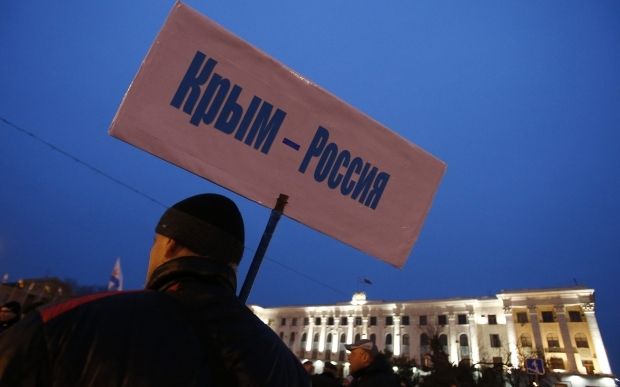 REUTERS
"Nobody ever likes betrayers. And the note 'inclined to betrayal' in someone's case file will never boost their career," Yuriy Smelyansky, an expert at the Maidan of Foreign Affairs Foundation who has been tracking the latest developments in the occupied Crimea, told Novoye Vremya. "They will have to prove their loyalty."  
To do this, the expert believes, the military and security force operatives will be either deployed in hot spots - Afghanistan, Chechnya or Syria - or in remote regions of the Russian Federation like the Far East or Trans-Baykal area.
"And to substitute the former Ukrainian operatives in the warm Crimea Kremlin sends the reliable, that is, Russian cadre. And this is not only about uniformed servicemen – civilian officials are also being sent to the peninsula from mainland Russia en masse. They are trusted more," journalists note.
In March 2014 Ukraine saw an excess of mass betrayal in Crimea.
Oleksandr Turchynov, the Secretary of the National Security and Defense Council, the then-acting president of the country, says that out of 13,000 servicemen of the Ukrainian Armed Forces stationed on the peninsula at the time, only 3,900 remained true to their oath. At the same time, among the employees of the Crimea's SBU office, 90% of the personnel flipped sides, as well as 99% of local police.
Read alsoRussia arrests turncoat Crimea soldier on charges of 'spying' for Ukrainian intel - KHPG"However, the defectors could not remain engaged and enjoy the new status for long. According to the SBU, most of the former Ukrainian security operatives were either transferred to mainland Russia or dismissed," the article says.
Thus, 40% of the border guards who remained in Crimea were sent to Russia. Of the 12,000 former police, almost a third were dismissed in the first three months following the annexation as they failed to pass certification. Of almost 2,000 ex-SBU operatives only 30% are still serving in Crimea. Those who were transferred to Russia were appointed to positions in hot spots in Chechnya and Dagestan and remote areas.
Read alsoRFE/RL: Kyiv, activists cry foul as Russian FSB detains Crimean TatarsThose who remained in the Crimea had to prove their loyalty. According to human rights groups and investigative journalists, it was the defectors who were ordered to conduct politicized investigations against the pro-Ukrainian population of the peninsula, including Crimean Tatars.
"The dirtiest jobs are given to defectors, and we know that they are involved in torture," says a Crimean native Valentina Samar from the Center for Journalist Investigations.