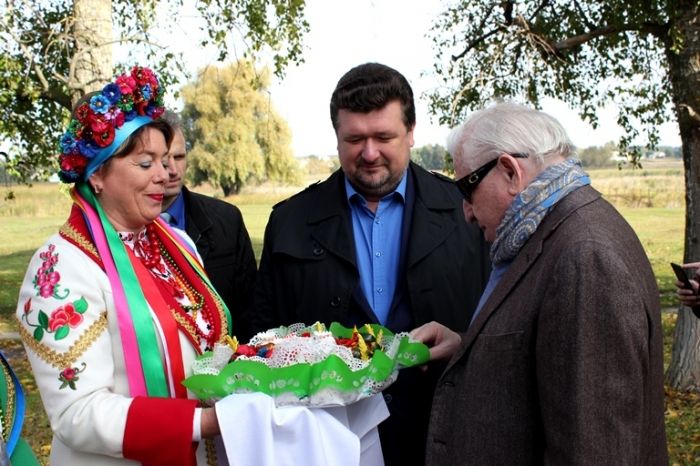 Fhoto from Zhytomyr Regional State Administration
Deputy Chairman of the regional state administration Yaroslav Lahuta welcomed Kislin in the town of Ruzhyn on October 7.
Sam Kislin came to re-establish contact with his family, as his grandfather came from Ruzhynsky district, where he was shot by Nazis during World War II.
He also visited the Jewish cemetery and burial places.
UNIAN memo. Sam Kislin was born in Odesa in 1935. In the early 1970s, he emigrated to the United States with his wife Ludmila, daughter Regina, and son David.
Read alsoFive circus and restaurant bears find shelter in ZhytomyrIn 1992, Kislin created the company Trans Commodities, Inc., which eventually turned into one of the world's largest trading firms. It is engaged in the international purchase and sale of metal products, while investing in the development of infrastructure and operation of mills located in Ukraine.
In 1994, Kislin was appointed by the Honorable Rudolph W. Guiliani, Mayor of the City of New York, to serve on the Mayor's Council of Economic Advisors, and he remained an active member of that body until 2001.
In 2003, he was paid tribute by the New York City Council with "honorary citizenship" in the City of New York, one of the first such honors given to an immigrant.
In addition, Kislin and his wife have long been supporters of many philanthropic projects that have assisted Jewish families to leave the former Soviet Union and relocate to other parts of the world, including Israel.
He has also been active in the Be'er Hagolah Institutes, which is the largest school in the United States dedicated solely to educating the children of Russian immigrants of Jewish decent. His contribution to education in Israel was recognized by the naming of "The Kislin Library," a college library in the Sha'ar Hanegev Region in Be'er Sheva, Israel.