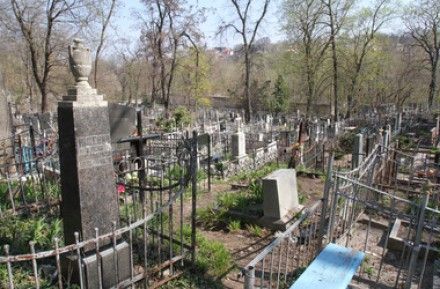 Cemetery / Photo from Segodnya
The teens, all males younger than 18, were detained last month in connection with vandalism in Svalyava, a city in Western Ukraine that is located approximately 100 miles southwest of Lviv, the news site reported last week. The report did not say whether the suspects admitted the actions attributed to them or what punishments they will receive if convicted, JTA reported.
Read alsoPresident Poroshenko, First Lady honor memory of Babyn Yar victimsThe teens pushed over at least 20 gravestones, causing some to smash, including the gravestone of the town's former rabbi, Rabbi Shalom Goldenberg. The cemetery they allegedly vandalized has not been in use for decades.
In 2012, the Council of Europe adopted a nonbinding resolution placing responsibility for the care of Jewish cemeteries on national governments. The resolution was based in part on a report that said Jewish cemeteries are "probably" more vulnerable than other cemeteries.
In addition to frequent vandalism at Jewish cemeteries, including for anti-Semitic reasons, the report also noted instances of cemeteries in Eastern Europe that have been turned into "residential areas, public gardens, leisure parks, army grounds and storage sites; some have been turned into lakes."