Ukrainian teen fires pistol from apartment balcony in social media video
A Ukrainian teen has posted a video on social media of himself apparently firing a pistol from an apartment balcony 'for entertainment', but police investigating the incident say he could now face a prison sentence, 9News reported.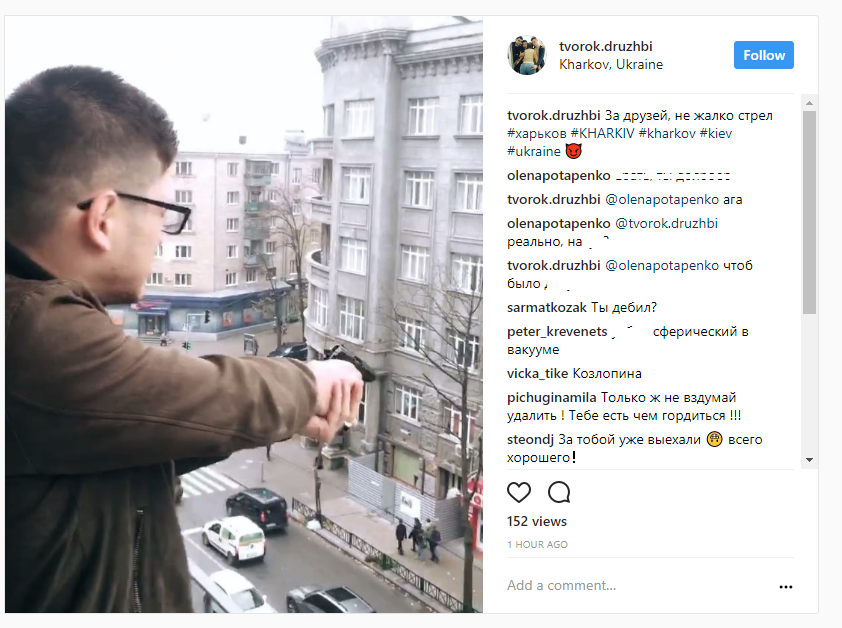 instagram.com/tvorok.druzhbi/
The video, posted by user Roman Pelekh to Facebook, shows a boy wearing glasses stepping out onto a high-rise balcony and unloading up to five shots onto the street below, as reported by 9News.
It is unclear if the boy is firing live rounds or blanks.
Ukrainian media outlet Pravda reports that the boy was firing the gun "for fun" and it's not the first time he has posted videos firing weapons "for entertainment".
The video, which has been viewed just over 12,000 times on Facebook, has attracted widespread criticism after being broadcast by the Ukrainian television channel "112 Ukraine".
Read alsoAlyona Zaitseva: Daughter of Ukrainian oligarch could escape jail after killing five people in car crash – mediaResponding to calls for the boy to be charged, head of the National Police department in Kharkiv Olena Barannyk said an investigation has been opened.
"None of the inhabitants of the city were injured. No one has gone to the hospital," said Barannyk.
"There was a detour around the apartment block where it happened, and thus the apartment was calculated, where they found these four young people."
Mrs. Barannyk said police were attempting to identify the weapon, with many doubting the gun the boy is holding is a real pistol.
If you see a spelling error on our site, select it and press Ctrl+Enter