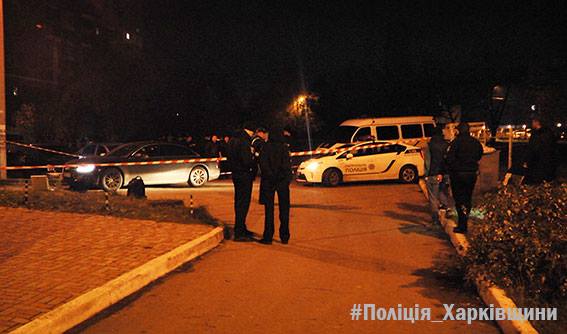 Kharkiv PD
According to a Kharkiv police report, the man was shot in his car in the center of Kharkiv in the late hours of Saturday.
"Akselrod is the connection of Tyurin and Vasilenko in the organization of Voronenkov's murder. The PGO investigation correctly identified [Russian criminal boss] Tyurin as the mastermind," Lutsenko wrote in a comment on Facebook.
"The murder (of Akselrod) confirms the version of the prosecutor's office that the organizer of the assassination of State Duma deputy Voronenkov could be a criminal boss Tyurin," the political scientist Viktor Ukolov echoed Lutsenko's comment on Facebook.  
"According to investigators, Eduard Akselrod, who was shot in Kharkiv, had been selecting hitmen, together with Tyurin's friend Yury Vasilenko, to kill Denis Voronenkov," Ukolov wrote.
Read alsoPGO: Voronenkov's murder almost solvedThe political scientist also suggested that by executing Akselrod, the connection was broken between the assassin and the one who ordered the killing.
"It's a known scheme when in order to break off any connection between the killer and the customer, the organizer who contacted the killers must be removed," added Ukolov. 
As UNIAN reported earlier, As UNIAN reported earlier, former State Duma member Denis Voronenkov, who was expected to become an important witness in a treason trial against Russian-backed ex-president of Ukraine Viktor Yanukovych, was shot dead in the center of Kyiv on March 23, 2017.
Voronenkov's bodyguard, who was wounded in the attack, also managed to hit the assassin with several shots as he returned fire. The killer later died amid surgery in a Kyiv hospital.
Read alsoUkraine prosecutors name contractor of Voronenkov's hit (Photo, video)Anton Gerashchenko, an adviser to the Ukrainian interior minister, said that the killer, Pavlo Parshov, was born in Sevastopol, Crimea, in 1998. He was reportedly hired by the Russian special services.
Later, the SBU Security Service of Ukraine said that they were vetting whether Parshov was a Russian FSB agent.