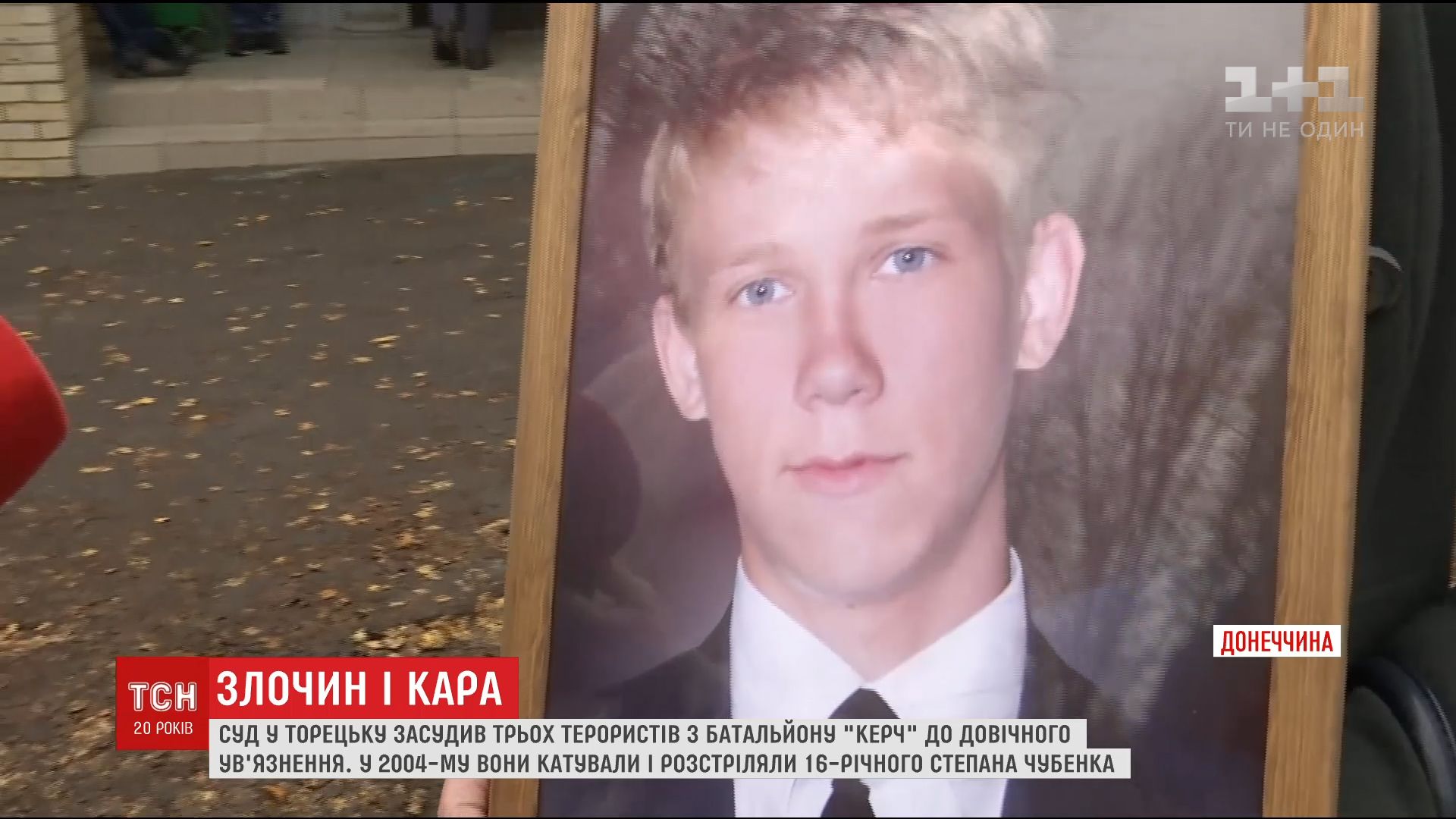 Screenshot 1+1
Ukraine was left with no choice since Russia is openly protecting the three convicts, despite the prosecutor's office of the self-proclaimed 'Donetsk people's republic' [DPR] having itself established the men's direct role in the killing, KHPG reports.
Russia will now need to explain its probable refusal to extradite the men who are hiding out in Russia or Russian-occupied Crimea.  It is likely to claim that the men are now 'Russian citizens' and are therefore not to be handed over to foreign parties.  Since the chief suspect, Vadim Pogodin, was recently arrested without such citizenship, but then released, the argument will not wash.
Stepan Chubenko was 16, wrote poetry, was passionate about football and very pro-Ukrainian. His parents recount how Stepan and his friends has taken part in pro-unity rallies from the beginning of the Russia-backed, armed and manned conflict in Donbas. The young lads also took water, food, and hygiene necessities to Ukrainian soldiers who arrived in Kramatorsk.
His parents tried twice to get him away for his own safety.  They sent him first to his maternal grandfather in Russia, but he returned, saying that he wouldn't "hide like a rat" when Ukraine was in danger.
Read alsoDesperate plea from Crimean prisoner who attempted suicide rather than be taken to Russia – KHPGHe was captured in Donetsk, seemingly because of the Ukrainian blue and yellow ribbon on his rucksack and then the 'Karpaty' football club scarf that they found inside. His parents later learned that Stepan had been beaten in Donetsk, and then taken, on Pogodin's orders, to a village outside the city. Sukhomlinov was ordered to kill Stepan, who was forced to stand on his knees, with his hands bound behind his back.  When Pogodin saw that he was still alive, he drew a handgun and shot him.
His parents managed to meet with 'DPR' official leader Alexander Zakharchenko – probably because Stepan's mother Stalina Chubenko is from Magadan, and is, at least officially, a Russian citizen.  Zakharchenko promised to find out and told them the next day that their son had been murdered.  He even initiated a criminal investigation, and Moskalev was taken into custody.
Novaya Gazeta recently published a copy of Moskalev's interrogation, in which he states clear that Pogodin gave the order to kill Stepan and that it was Maxim Sukhomlinov who had carried out the order. 
Moskalev served a short sentence then fled to Russia. Stalina Chubenko has learned that Moskalev was detained in 2016 on an INTERPOL red notice; however, Russia did not hand him over to Ukraine.
Read also"Disputed territory": NYT slammed over "non-Ukrainian" CrimeaIf Russia's disregard for the Red Notice on Moskalev passed without much notice, its initial detention, and then release of Vadim Pogodin seemed like an open flouting of both its legal commitments and of the most fundamental moral principles. 
A 16-year-old lad had been tortured and executed in cold blood, and Pogodin's fatal role in this had been acknowledged even by the Russian-backed 'DPR'.  Yury Butusov, the Chief Editor of Censor.net, asserts that Pogodin was not arrested by militants because it was discovered that he had committed the killings (others as well) on the instructions of Russian operatives overseeing the war in Donbas. 
His June 20 arrest, therefore, was rather unexpected, but should certainly have resulted in his extradition to Ukraine.  Pogodin had been living in occupied Crimea for a long time, suggesting that there was some reason why the Russian-controlled occupation authorities chose to 'notice' the Interpol red notice against him.  Whatever the reason, it was not any legitimate wish to punish and isolate the brutal murderer, since he was quietly released in late July, with no explanation provided to Ukraine. 
Read alsoSuspected murderer released by occupation authorities in Crimea could become "key suspect" in MH17 caseAt least in Pogodin's case, his link with Sergei Dubinsky ['Khmury'] would be an additional reason why Russia would not dare to extradite him. It is Dubinsky whose voice was intercepted by the Ukrainian Security Service and who is believed to have been directly involved in transporting the Russian Buk surface-to-air missile system which down Malaysian airliner MH17 on July 17, 2014, killing 298 passengers. 
Russia is protecting three convicted killers of a pro-Ukrainian schoolboy from Ukrainian justice, though it is by no means certain that the men now have cause to sleep peacefully.  A large number of Russian and Ukrainian militants have met violent deaths in recent years.  While the militants themselves like to show videos of hapless Ukrainians seized and tortured into 'confessing' to carrying out the killing on the instruction of the SBU [Security Service].  Ukraine has no reason to seek the death of men whom it wants to put on trial for war crimes – unlike an aggressor state that has a lot to fear from their revelations.