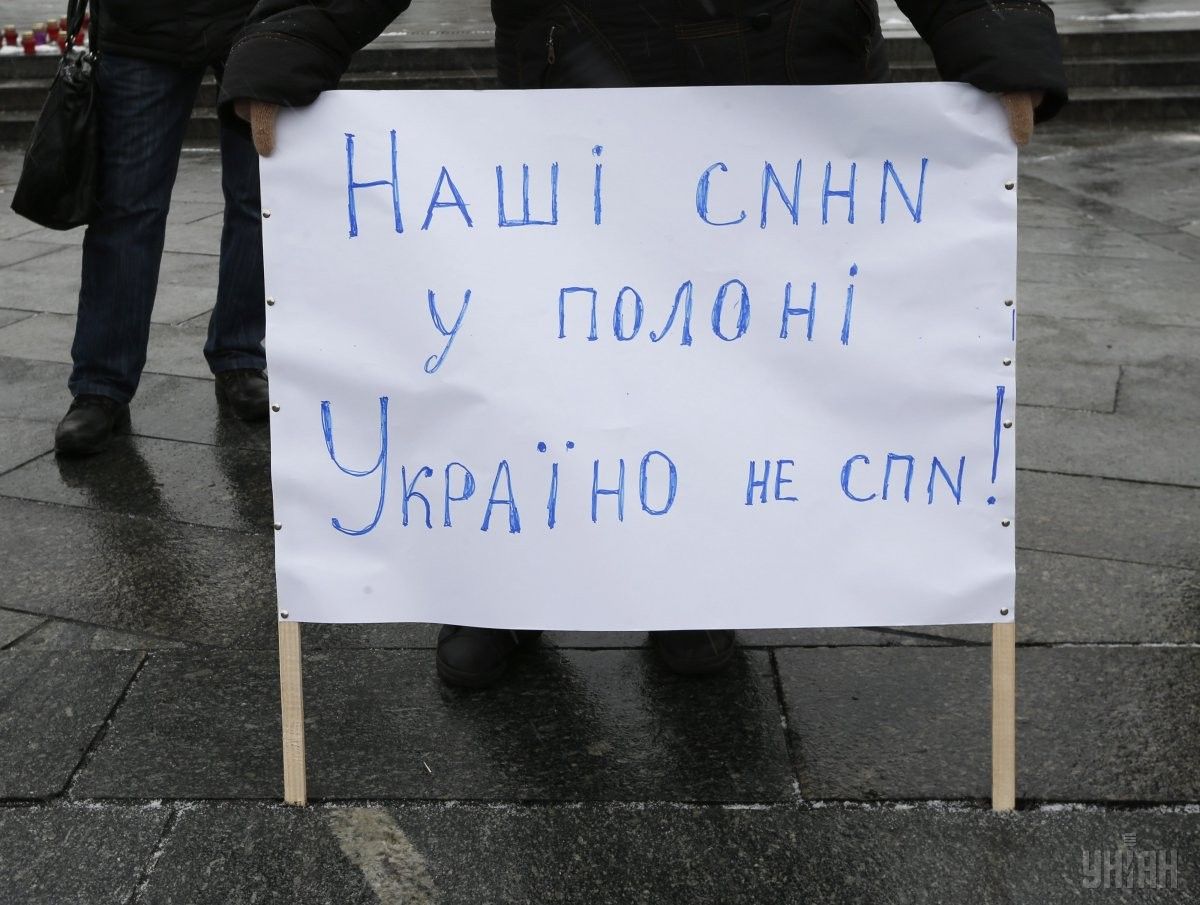 A sign at a rally says: Our sons are in captivity. Ukraine, wake up! / Photo from UNIAN
At the same time, the lists drawn up by illegal armed groups are much longer than those put forward by Ukraine; however, the exact number of prisoners to be swapped remains unclear, 112.ua reports citing its source.
The publication claims that militants failed to confirm prospects for the release of certain persons mentioned in the Ukrainian list.
Read alsoKremlin says swap of Ukrainian political prisoners held in Russia not on agenda"Those who are charged with something serious have not been confirmed unlike the military, people suspected of cooperation with the Security Service, Ukrainian intelligence, border guards , and spec-ops," says the source.
Read alsoSentsov transferred to punitive isolation ward in Russian colonyAccording to the publication's interlocutor, Ukraine will likewise exchange those who are suspected of cooperation with militants.
However, the suspect in the assassination of SBU Colonel Kharaberyush is not going to be released, reads the report.
"At the moment, we are awaiting a signal. I suggest this will all happen within a month," the source said.
As UNIAN reported earlier, on November 15, Russian President Vladimir Putin told his Ukrainian political operative Viktor Medvedchuk that he would "do everything in his power" to facilitate an exchange of prisoners between Donbas militants and Ukrainian government.
Read alsoUkraine not to succumb to blackmail on prisoner swap issue – humanitarian envoyPutin was reported to have held a telephone conversation with the leaders of Russian militants in Donbas in what appears to be the first ever Kremlin-confirmed communication with militant chiefs.
Read alsoKremlin reports about Putin's phone call with "DPR/LPR" leaders on POW swapThe Ukrainian side in the Tripartite Contact Group for the Donbas settlement in Minsk has repeatedly called on carrying out a hostage exchange under the "313 for 88" formula.