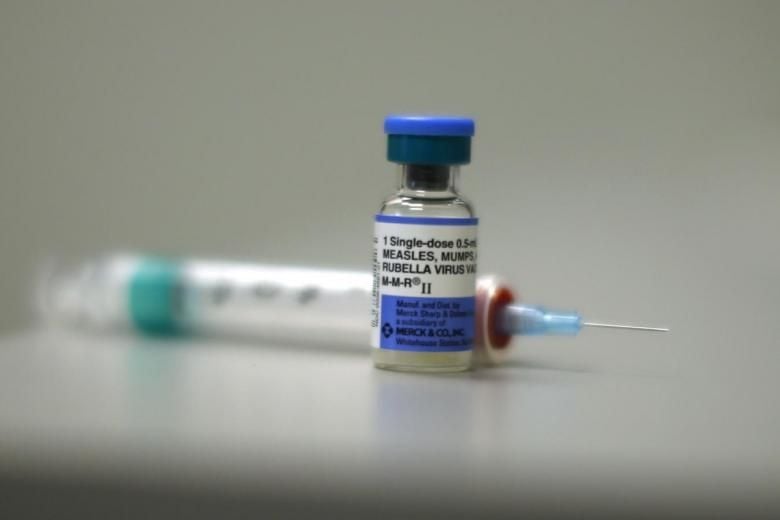 REUTERS
"There is a lot of data that children who were vaccinated actually contracted diseases," the 30-year-old mother from Kyiv tells RFE/RL, without providing specifics. "There's also been lots of information about vaccinated children dying," the woman adds, declining to divulge her surname out of fear that her comments could trigger negative reactions among her friends.
Such notions, shared by a minority of parents in Ukraine, may be putting the Eastern European country of 45 million on the brink of a major health crisis, experts warn.
"Ukraine is on the verge of a measles epidemic," says Yevhen Komarovsky, a leading pediatrician in the Ukrainian capital in discussing the respiratory disease that can spread very easily through contact with infected mucus and saliva.
Read alsoWHO warns of measles outbreak in Ukraine"If we take into consideration the [low] level of vaccination, then the mortality rates are practically miraculous," Komarovsky notes. "We are still very lucky." However, he warns that "in 2018, unfortunately, the situation should get worse."
According to 2016 data from the World Health Organization (WHO), Ukraine ranks last in terms of measles-vaccination coverage in Europe.
The WHO also warns that it takes only a small percentage of unvaccinated kids to create the breeding grounds for measles outbreaks.
Fedir Lapiy, Kyiv's chief immunologist, says: "We currently have over 600,000 doses of vaccine. This is enough to give to all the children who have scheduled vaccinations and for those who missed their target date," Lapiy explains, adding that a fresh batch of vaccines for measles, mumps, and rubella -- often included in one injection -- are scheduled for delivery in 2018.
The vaccine, purchased by the Ukrainian government, is free to children, Lapiy stresses.
Giovanna Barberis, UNICEF's representative in Ukraine, has written that "myths about vaccinations being potentially harmful," has in large part "meant that Ukraine's coverage against measles dramatically dropped from 97 percent in 2007 to 42 percent in 2016."
Officially, Ukraine says the rate of those who refused measles vaccinations in 2017 was only 7.4 percent.
Numbers from WHO say that less than 50 percent of 1-year-olds were vaccinated against measles in 2016.
That puts Ukraine dead last in Europe.